There's considerable hype around the introduction of the new Toyota Corolla hatchback in South Africa, but will it be fit to compete against the segment-leading Volkswagen Golf? We gaze into our crystal, erm, gear knob for potential answers...
Toyota Corolla vs Volkswagen Golf – it feels strange writing that, but it's a clash that's coming, and soon too. Toyota will be launching its new Corolla hatchback in South Africa early in 2019. The Auris nameplate is dying a slow death and the Corolla hatchback will be its replacement to take on rivals such as the forthcoming Ford Focus and the Volkswagen Golf. Just how well will the new 5-door Corolla fare against the venerable Golf?
It's hard to answer that question with confidence at this point as we have yet to drive the new Corolla hatchback and specification and pricing for our market remains unknown for now. We can, however, look ahead to the future and imagine what might be, or what will not be for that matter too. So, in that vein, here is a quick rundown of how we see this fight going down.
Which looks better?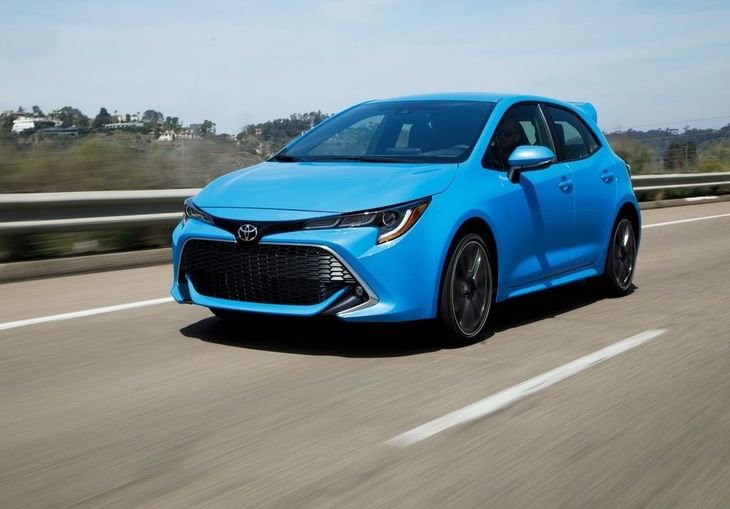 The Corolla has a decisively sporty look and will appeal to the more youthful buyer.
Built on the same TNGA platform that underpins the C-HR and Prius, the Corolla hatchback has a sporty, low-slung stance with a large, gaping grille which adds to its presence. The sleek LED headlights have integrated daytime running lights while the curvaceous rear-end is complemented with slim LED tail lights. Wheel sizes are expected to range between 16-inches up to 18-inches on the higher spec versions. Overall, we think the Corolla hatchback looks very good and depending on your taste, it might even trump the (more conservative) Golf in terms of exterior styling. That said, with its sportier R-Line package applied, the Golf is a handsome machine, too.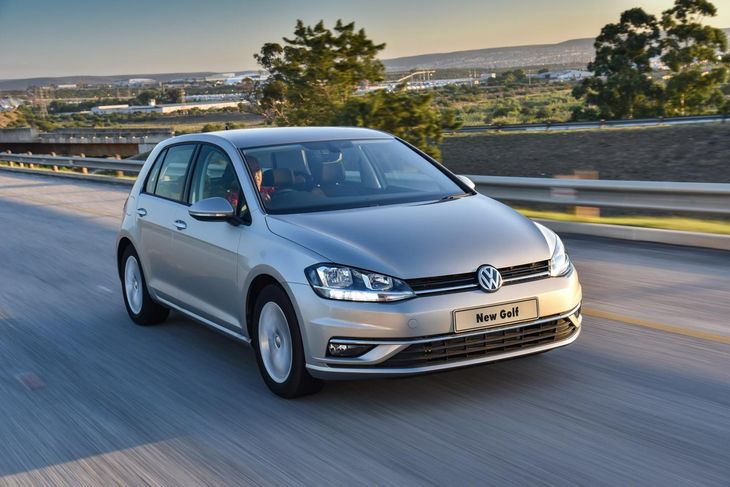 The sophisticated Golf is more conservative in design but it's been a recipe for success for Volkswagen.
In comparison, the Golf is built on Volkswagen's MQB platform and adopts a more grown up, mature look based on a successful styling recipe which has made the Golf exceptionally popular worldwide. LED headlights are standard on higher spec derivatives (GTD, GTI and R) while being optional on lesser Golf derivatives. Wheel sizes range from 15-inches to 19-inches, depending on the derivative you choose.

You can decide for yourself which car looks better, but we think the Corolla has a more alluring exterior design, but be reminded that the new Golf 8 is looming in 2019, so expect the Golf's styling to fall in line with Volkswagen's latest design language.
Interior antics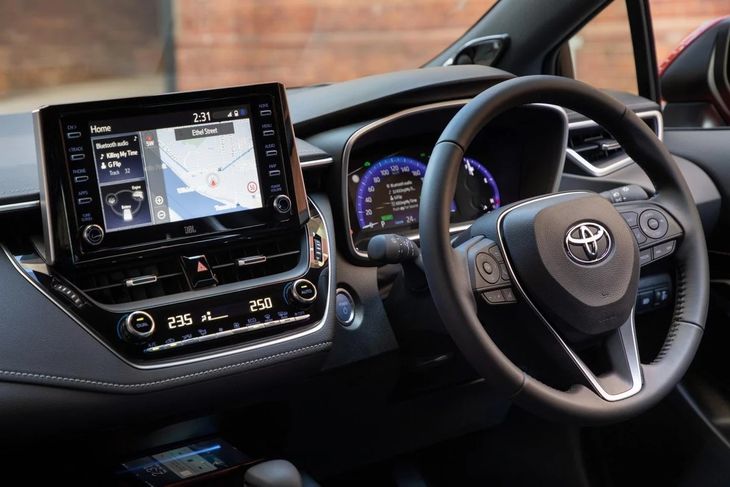 The Corolla is likely to offer more features as standard which will improve its value proposition against the Golf.
The Corolla hatchback features a seemingly neat interior design and upholstery options will likely include cloth, leather or both depending on the specification. The South African market will likely receive an 8-inch touchscreen infotainment system and a full-colour 4.2-inch multi-information display. Other key features for the Corolla hatchback include an electronic parking brake, USB and auxiliary audio inputs, a 12V accessory socket and 60/40-split rear seats. Higher-spec models could feature dual-zone aircon and smart entry and start. South African specification (and pricing), however, has yet to be confirmed.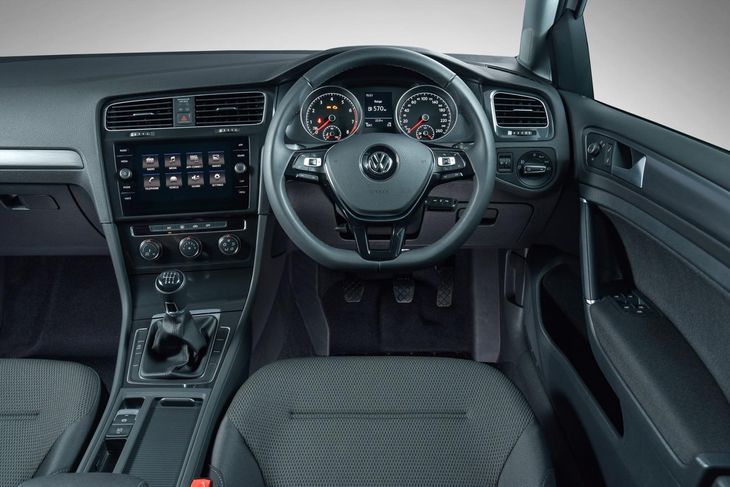 An upmarket and modern design in the Golf gives it visual clout but many features are extra cost options.
The Golf's interior appears to be more premium-looking in its design with a wide range of infotainment options on offer, including a top-end, 9.2-inch Discover Pro infotainment system which is optional. Like the Corolla, the Golf is offered with cloth and leather upholstery, depending on the derivative you choose. Many of the nice-to-have features for the Golf are offered as options though.
And that is where the Corolla might pip the Golf – in the consumer's pocket. By potentially offering more features as standard, cash-strapped buyers are likely to appreciate the potential added value on offer in the Corolla.
Engine matters

The Corolla's 1.2-litre turbopetrol engine from the C-HR should offer reasonable performance.
While Toyota South Africa has yet to confirm local specification for the Corolla hatchback, it is likely that our market will initially receive a 1.2-litre turbopetrol engine (familiar from the CH-R) with 85 kW and 185 Nm of torque. A 6-speed manual transmission with rev-matching technology sounds like the one to have while a new Direct Shift CVT with a 10-speed sequential shift mode is expected to be offered locally too. We wonder how it might compare to the Golf's excellent DSG transmission? A 1.8-litre Atkinson Cycle petrol-electric hybrid version is also on the cards.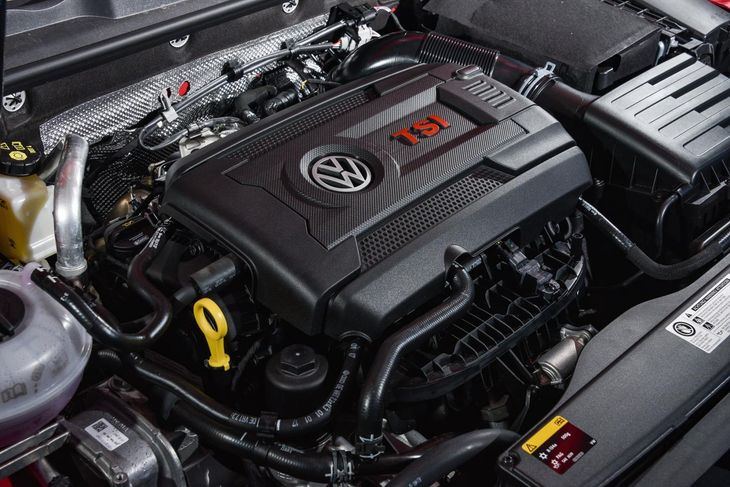 The plucky 1.0-litre turbopetrol engine offered in the Golf is expected to give the Corolla a run for its money.
The Golf range has far more engine choice with turbopetrol and turbodiesel engines on offer. The Golf's 1.0-litre turbopetrol engine with 81 kW and 200 Nm is closely matched to the Corolla's powerplant while the more powerful 92 kW 1.4-litre turbopetrol will most likely outshine the Corolla in terms of performance. Manual and dual-clutch transmissions are offered on the Golf. Also, the Corolla does not offer anything to take on the likes of the Golf GTI or Golf R...
Our gut feel is that the Golf will have the upper hand in terms of performance against the Corolla. However, we reserve final judgment regarding performance and ride and handling dynamics until we have had the opportunity to test the Corolla hatchback on local soil.
Final Thoughts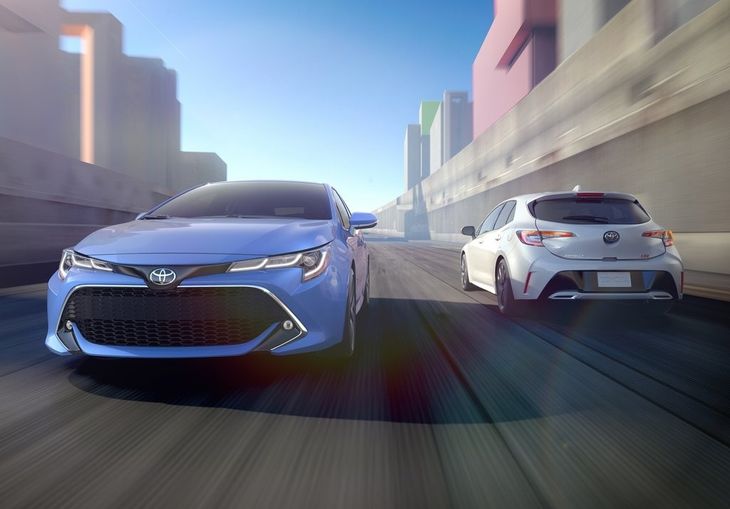 With good looks, a modern cabin and more features as standard, the Corolla Hatch should be a more attractive offering than the outgoing Auris.
It will be interesting to see what standard specification will be offered for the new Corolla hatchback when it arrives in early 2019. We expect it to feature a reasonable amount of safety features including a full complement of airbags (front, knee, side and curtain), a reverse-view camera, Isofix child restraint anchors, ABS with brake assist, vehicle stability control and, hopefully, active cornering control.
The Volkswagen Golf is offered with a wide range of optional features and we suspect that Toyota will be far more generous in terms of standard specification in an effort to secure more sales. While pricing for the Corolla hatchback has yet to be confirmed the South African market, we think it will be very competitive and undercut the Golf (pricing for the Golf starts at R310 000), which will improve its value proposition substantially.
Throw in Toyota's solid reputation for reliability and after-sales service and you have a car that should offer a more tempting proposition than the outgoing Auris, but it's a tough segment these days with many consumers opting for crossovers instead. Also missing is a performance-orientated Corolla to compete with the GTI and Golf R, and these iconic cars contribute to overall Golf sales significantly. We recently drove the supercharged Yaris GRMN and it was fantastic! Can you imagine if the wizards over at Gazoo Racing brought a Corolla GRMN to market? Yes please, just do it Toyota...
We will keep you updated as soon as more details regarding local specification and pricing for the Toyota Corolla hatchback is revealed, so stay tuned!
Do you have your own opinion about how you see the Corolla vs Golf rivalry playing out? Share your thoughts with us in the comments below...
Buy a new or used Toyota Corolla on Cars.co.za
Buy a new or used VW Golf on Cars.co.za
Related Content
Toyota Corolla Hatch (2019) in SA soon
New Cars Headed for SA in 2018
Toyota Yaris GRMN (2018) Local Drive
Drag Race: Toyota Yaris GRMN vs Renault Clio RS 18
Drag Race: Volkswagen Polo GTI vs Toyota Yaris GRMN
Track Race - Polo GTI vs Yaris GRMN vs Renault Clio F1 vs Mini Cooper S
2018/19 Cars.co.za Consumer Awards – powered by WesBank; Finalists