Cars.co.za correspondent Ian McLaren takes a closer look at the various updates that Mercedes-Benz South Africa recently made to its impressive SUV portfolio.
1. 40 years of G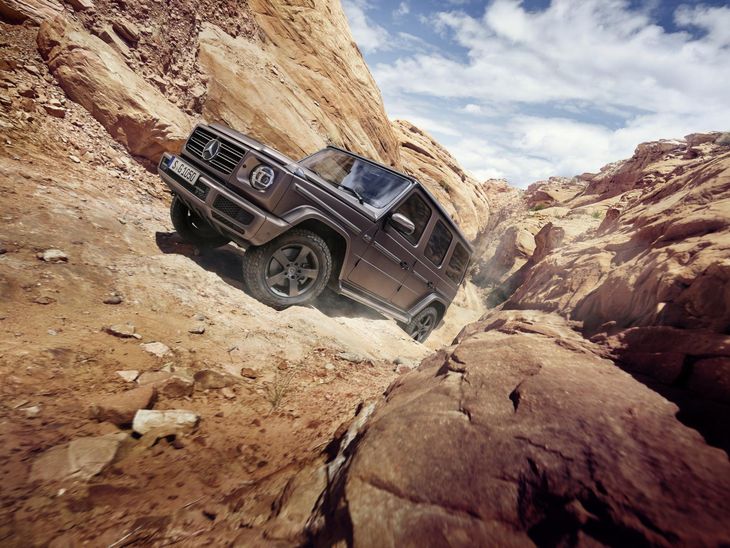 Known as the G-Class (Geländewagen is German for "terrain vehicle"), the granddaddy of the modern Benz SUV line-up was introduced in 1979. Hugely capable off-road, this vehicle has nevertheless established a cult-like following among enthusiasts who crave its sheer sense of presence, old-school charm and even the distinct sound its doors make as you slam them closed.
A year after its international reveal, the G 400d "Stronger Than Time Edition is now available in South Africa. Featuring various G Manufaktur custom trim bits, this anniversary G-Wagon is fitted with 20-inch alloy wheels that complement standard AMG- and Night Package upgrades.
Also read: Mercedes-Benz Tweaks G-Class for 2021
A selection of 6 Nappa leather interior colours is available, with Olive Metallic one of 4 exclusive exterior finishes on offer.
As its name suggests, the G 400d is powered by the brand's impressive 243 kW/700 Nm 2.9-litre six-cylinder turbodiesel engine mated with a 9-speed automatic transmission.
Pricing for the G 400d Stronger Than Time Edition starts at R2 890 000.
2. Return of the Maybach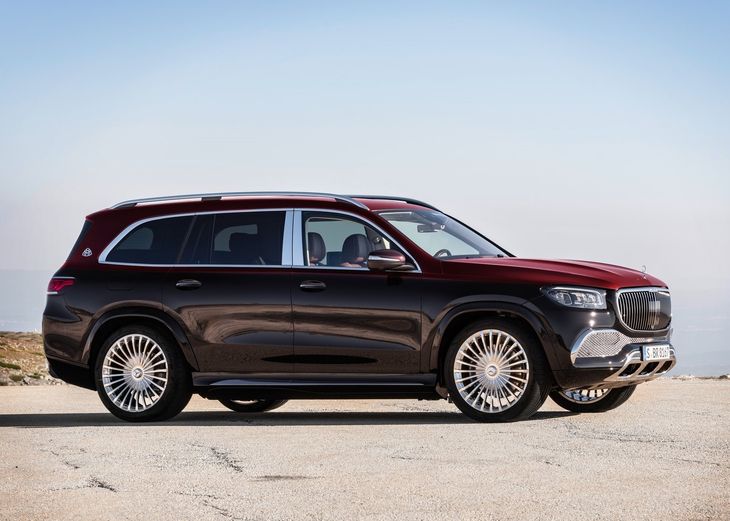 Complimenting the all-new GLS range is the flagship GLS 600 Maybach derivative. Set to rival the likes of the Rolls-Royce Cullinan and Bentley Bentayga, the price tag for this range-topping model is R2 917 000 (before options, of course).
With rear passenger comfort in this segment paramount, Mercedes-Maybach owners are treated to a set of heated and ventilated reclining back seats with a full complement of modern MBUX infotainment services.
The GLS 600 Maybach is powered by a 410 kW/730 Nm 4.0-litre turbopetrol V8 engine. Air suspension is naturally standard fitment, while 22-inch alloy wheels and the full selection of custom exterior paint finishes complete the suitably upmarket styling.
Also read: Super-exclusive Merc-Maybach S650: a final hurrah
3. New GLE Coupe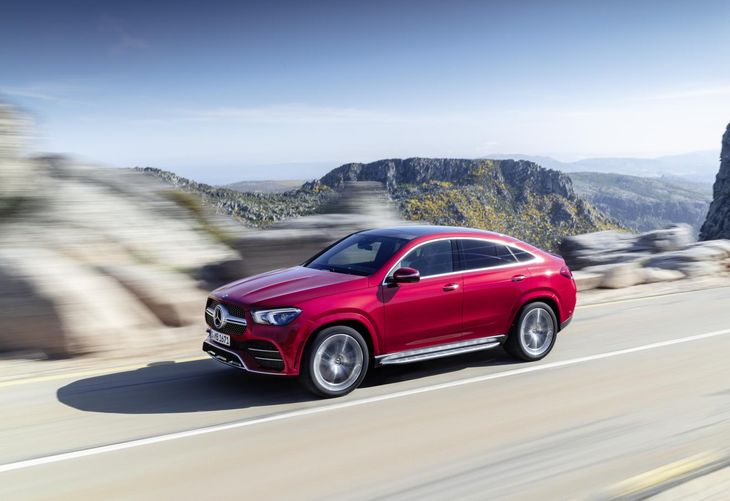 Mercedes-Benz SA now offers its new GLE Coupe in 400d guise, with AMG-fettled 53- and 63 derivatives scheduled for 2021. Distinguishable via its standard AMG Sport Pack exterior, including "diamond-studded" grille and 20-inch alloy wheels, the newest GLE Coupe is also fitted with a panoramic sunroof and a retractable tow hitch.
Riding on an (Airmatic) air suspension, the GLE Coupe 400d is powered by the brand's silky-smooth 2.9-litre, inline 6-cylinder turbodiesel engine mated with a 9-speed automatic transmission.
While Alcantara-clad sports seats are highlights of the GLE Coupe's interior, it's difficult not to notice the impressive full-compliment of MBUX technologies, including their corresponding 12.3-inch display screens.
Pricing on the new GLE 400d Coupe starts at R1 814 000.
Also read: Mercedes-Benz GLE 300d 4Matic AMG Line (2020) Review
4. GLC 63S 4Matic+ and Coupe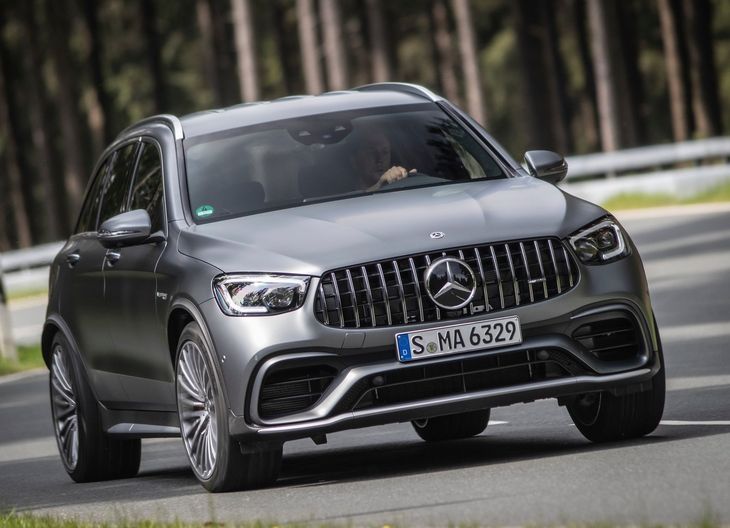 Boasting a claimed 0-100 kph sprint time of less than 4.0 sec, the new Mercedes-AMG GLC 63S and GLC 63S Coupe siblings feature the brand's 4Matic+ all-wheel-drive system and a host of AMG-specific exterior highlights to ensure they stand out in a crowd.
Each is fitted with a 375 kW/700 Nm bi-turbocharged V8, plus a standard sports exhaust system; you're likely to hear them before you see them.
A suitably sporty interior includes Alcantara and carbon-look trim throughout, with Nappa leather upholstery completing the look.
While both derivatives cost around R2 million, the sleeker Coupe demands a R200 000 premium over is more traditional, SUV-shaped sibling.
Also read: Mercedes-Benz GLC 220d 4Matic AMG Line (2020) Review
5. Two new compact SUV offerings

As reported, Mercedes-Benz South Africa is optimistic about the continued success of its GLA, not least because the all-new model introduces a host of new technologies to this important segment of the new-vehicle market. Available in 200 (petrol) and 200d (turbodiesel) guises, the 2nd-generation GLA offers neater styling all round, compared with its predecessor, while its new underpinnings facilitate improved levels of versatility.
Also read: Mercedes-Benz GLB (2020) Launch Review
Sharing this platform, though with increased overall dimensions compared with the GLA, is the all-new GLB model, which Mercedes hopes will find favour with those seeking more rugged, purposeful styling compared with both the GLA and larger GLC executive SUV.
A spiritual successor to the GLK, the new model is offered in 250 (turbopetrol) or 220d (turbodiesel) guise, the latter with 4Matic all-wheel-drive.
6. Online orders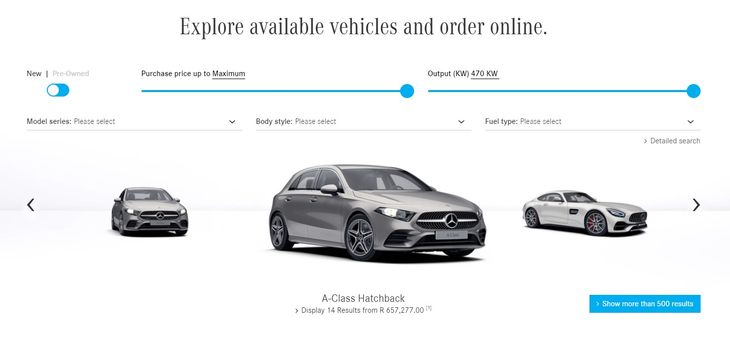 In an extraordinary year, during which most South Africans were asked to stay home for a protracted period, Mercedes-Benz South Africa experienced a welcome increase in online sales across its current range of vehicle offerings.
From browsing to configuration and finance options, a customer can order, make payment and receive delivery of their new Mercedes-Benz without ever having to leave home. For more information, visit the Mercedes-Benz Online Store.