Hard on the heels of last week's Audi SQ5's reveal comes the SQ5 Sportback! Here are some quick details.
Despite the Volkswagen Group's infamous diesel dealings, the black stuff is still clearly of interest as the new SQ5 and SQ5 Sportback is offered with a 3.0-litre V6 TDI engine. With 251 kW and a monstrous 700 Nm on tap, the Audi SQ5 Sportback is no slouch, capable of sprinting to 100 kph in a claimed 5.1 seconds. It'll hit a limited top speed of 250 kph and despite it having a diesel engine, there'll be none of that clattering noise as Audi has fitted an actuator in the exhaust system, so you'll get some meaty noise.
This engine has been around for some time, but for the 2021 Audi SQ5 Sportback, it has been updated. There are new forged steep pistons, revised valve injectors and some trick plumbing in the turbocharger to make it even more responsive and efficient. A 48 V mild hybrid system is fitted, as is an electric-powered compressor.
As with the 3.0 TDI version of the Q5 Sportback, a fast and smooth-shifting eight-speed tiptronic is fitted. A quattro permanent all-wheel drive can cleverly transfer the torque variably as needed to the front and rear axles. For some fun, an optional sports differential is available. The suspension has been given some work too, and a five-link setup connects the 20-inch wheels to the car. Adaptive air suspension is also available as an option.
The Audi Q5 Sportback and SQ5 Sportback will be assembled at the San José Chiapa plant in Mexico. The facelifted Audi Q5 is due to land in South Africa in 2021, with the current engine offerings for the Q5 will carry over which means the Q5 will be offered with a choice of a petrol and diesel engine and all Q5's feature Audi's quattro all-wheel-drive. A turbocharged 2.0-litre petrol engine in the Q5 45 TFSI offers 185 kW and 370 Nm of torque, while diesel fans will be catered for with the Q5 40TDI, outputs of which are 140 kW and 400 Nm. A 7-speed dual-clutch transmission will be standard on all Q5 derivatives.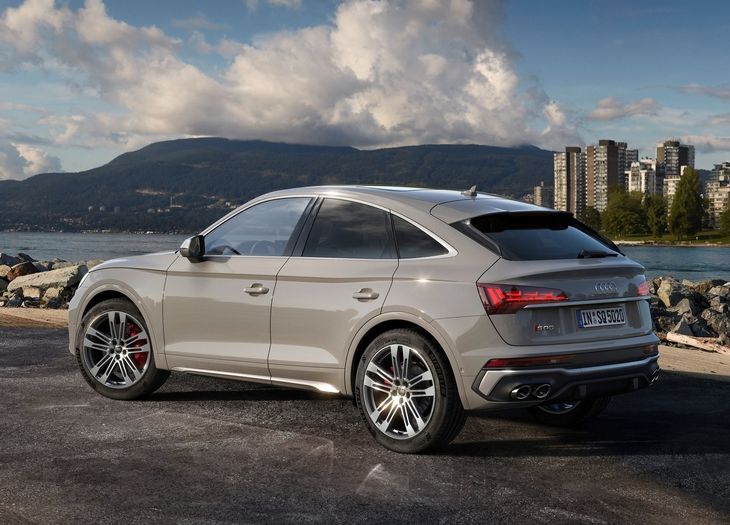 Further Reading
Audi Q5 Sportback takes on BMW X4
Facelifted Audi Q5 For SA in 2021