While the introduction of an all-new Ford Ranger is still a while away, a photograph showing its smaller, unibody-based sibling – the Maverick – ostensibly rolling off the Blue Oval's production line in Sonoro, Mexico, has appeared on a fan forum.
Leaked image: www.mavericktruckclub.com. Spy shots: S. Baldauf/SB-Medien. We have paid for these photos and at the photographer's request, have watermarked them.
While Hyundai is readying a unibody (as opposed to ladder-frame based) double cab based on its Santa Fe 7-seater SUV – the Santa Cruz, Ford is putting the final touches on what is now widely expected to be called the Maverick bakkie. The newcomer, which will slot in below the Ranger, will be built alongside the Bronco Sport family car at Ford's Hermosillo Assembly Plant in Sonoro.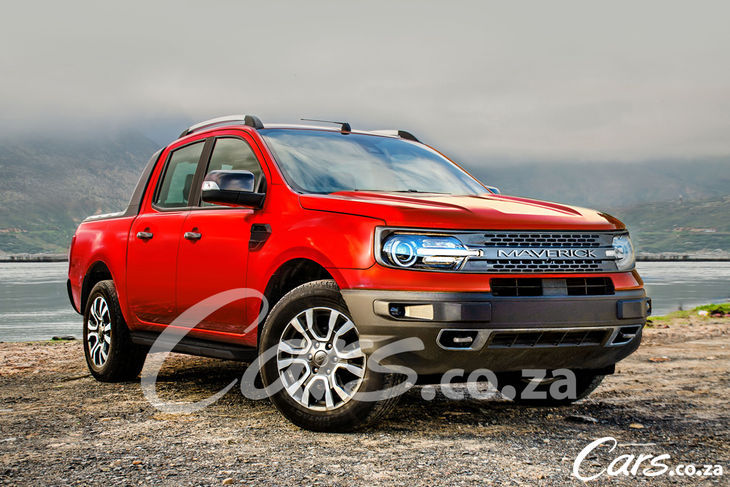 This is our earlier rendering of what the final version of the Ford Maverick could look like. Credit: Duwyne Aspeling.
Known internally as 758, it's believed this compact "lifestyle bakkie" will be produced on the current Focus C2 platform that underpins the Bronco Sport. A full reveal is expected at some point this year and, as speculated, the Maverick will share at least some styling cues with the Bronco Sport, which should give it a bold and suitably rugged appearance.
Cars.co.za has been following the Maverick's development with interest… In September 2020, we published spy images of a heavily camouflaged prototype. The cladding on that vehicle hid most of the details, but previewed the bakkie's boxy, squared-off front-end. Cars.co.za's Duwyne Aspeling also produced a rendering of what the forthcoming "baby Ranger" could look like "as a pick-up variant of the Bronco Sport" and, judging by the new image, the Maverick will have an even bigger grille and bolder headlamp clusters than expected, although the spied bakkie doesn't look very specced-up.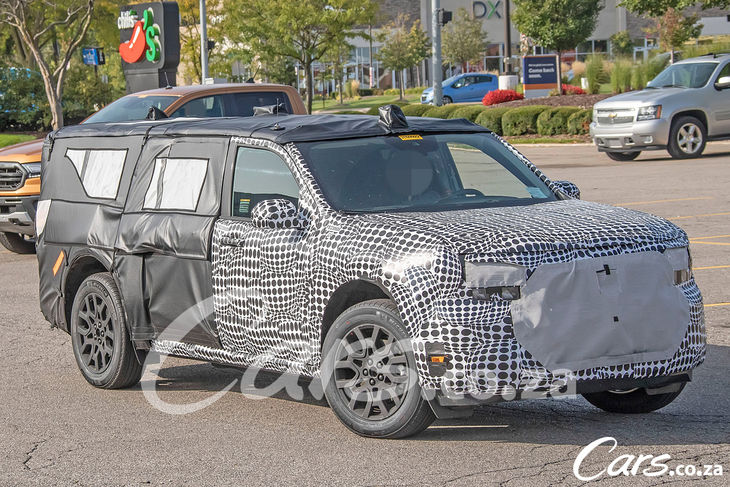 Given its passenger-car underpinnings, the Maverick will ride lower than the Ranger and because its load bed won't be required to haul significant loads (because of the Bronco Sport underpinnings), the package's cabin space – and creature comforts – will be prioritised. The model will be produced in front-wheel-drive guise, with part-time all-wheel-drive possible for high-end derivatives.
In terms of the engine line-up, reports suggest naturally aspirated 121-kW 2.0-litre 4-cylinder petrol and a turbopetrol 134-kW 1.5-litre 3-cylinder motors will be offered, both in conjunction with an 8-speed automatic transmission, as well as a manual gearbox.
As for the name of this new Ford bakkie, it was initially believed that it might be called the "Courier" or that Ford might revive its Ranchero nameplate. However, images of the tailgate bearing the Maverick name has been doing the rounds and most observers believe the "758" will debut in South America, before going on sale in the 'States shortly thereafter.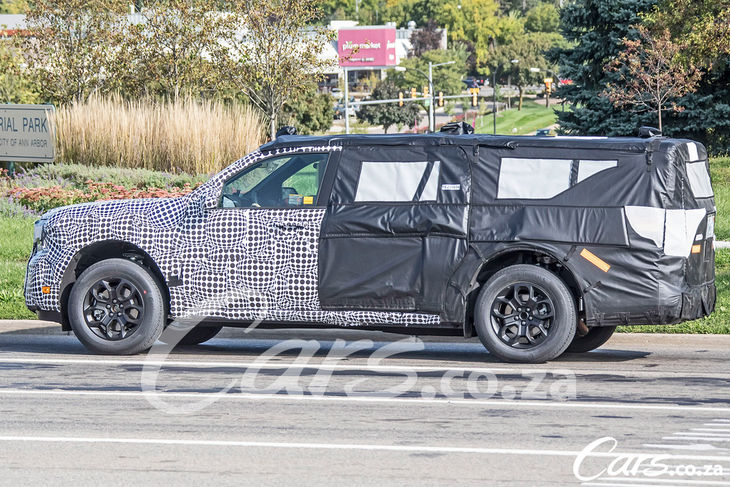 No, this is not a panel van, but rather a well-disguised Ford Maverick prototype.
Although the Renault Duster Oroch small pick-up has been confirmed for the local market, there is no indication that the Maverick will be offered in South Africa; because it will be produced on the Bronco Sport's platform, it will probably only be produced in left-hand-drive guise. But even if right-hand-drive production goes ahead, the case for the Maverick isn't strong...
The Ford Motor Company of South Africa has strengthened its position itself as an exporter, choosing to cut its model lineup to focus on producing (and components for) the Ranger, Everest and the next-generation Volkswagen Amarok. Unless this "baby Ranger" can be offered at a lower price than the popular 1-tonner Ranger, it's unfortunately unlikely to be made available in Mzansi.
Buy a Ford Ranger on Cars.co.za
Related content:
Details emerge on the 2022 Ford Ranger
How the Amarok and Ford tie up changes everything
Building the Ford Ranger Raptor's Engine