Ford South Africa launched its Ranger XL Sport by letting us take the bakkie on an adventure of epic proportions.
With the prices of flagship bakkie offerings reaching stratospheric heights (the top-of-the-range 190-kW VW Amarok, for example, now costs just under R1 million), OEMs are bolstering their mid-range derivatives in an effort to capture customers who can't quite afford those "brochure versions". The idea is to convince customers that a lesser derivative can offer 85% of the flagship experience at a more pocket-friendly price.
So, if you've had your eye on Ford's tasty Ranger Wildtrak or an XLT, but your budget can't quite stretch to the flagship or high-spec derivatives' asking prices, the Blue Oval has introduced stylish accoutrements that make its workhorse XL look far more purposeful; exude more street-cred.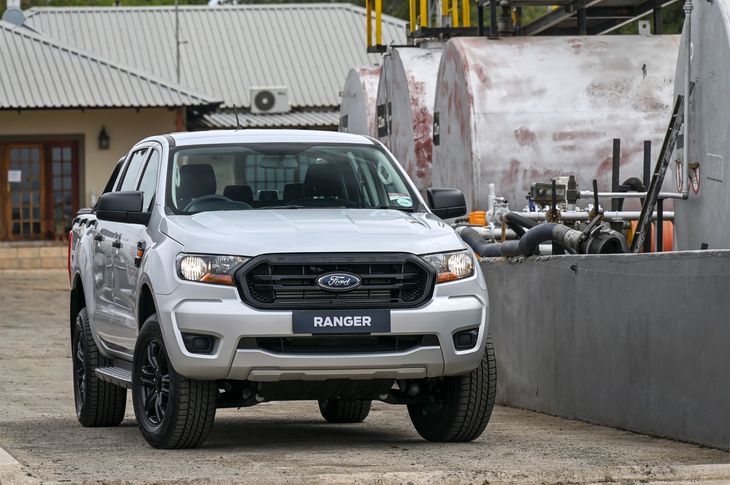 The XL Sport pack gives the workhorse some macho looks.
What is it?
To shake off the Ranger XL's budget bakkie/workhorse image, Ford South Africa has availed an optional Sport pack. Available for the single cab, SuperCab, as well as double-cab variants, the Sport pack transforms the affordable Ranger's "all work and no play" appearance appreciably. The handsome XL Sport treatment incorporates a gloss-black grille, with a matching sports bar, rear bumper and 17-inch alloy wheels.
Inside, the basic SYNC 1 infotainment system with its 4-inch display can be upgraded to the more contemporary 8-inch SYNC 3 setup, replete with a pair of USB ports and Apple CarPlay/Android Auto compatibility. This option may add R6k to the list price, but in our opinion, it is one of the best in the segment, plus there's the bonus of gaining navigation functionality with Apple Maps / Google Maps, depending on which device you use.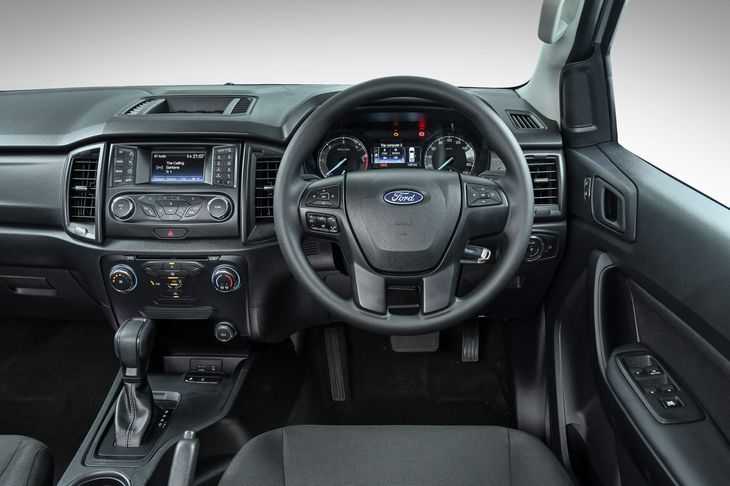 The cabin misses some luxury features, but retains most convenience features. The optional 8-inch SYNC 3 is highly recommended.
In terms of engine and transmission, and in keeping with the pocket-friendly theme, Ford has fitted the XL Sport with its tried-and-tested 2.2-litre 4-cylinder turbodiesel engine, which produces peak outputs of 118 kW and 385 Nm of torque. Customers have the choice of either 2- or 4-wheel drive, as well as a 6-speed manual gearbox or a 6-speed automatic transmission.
A tow bar is fitted as standard and in terms of a tow rating, the Range XL is capable of pulling a 750-kg unbraked trailer or up to a 3.5-tonne braked trailer. However, if towing is your thing, perhaps consider derivatives with the newer-generation of Ford engines, all of which offer over 400 Nm.

These 17-inch black alloy wheels look the business.
Unlike the Ranger Wildtrak, which boasts considerably higher levels of passive and active safety features, the Ranger XL Sport sacrifices the semi-autonomous stuff in the name of affordability. Dual front airbags, ABS with EBD, stability control, traction control, hill launch assist, roll-over mitigation, adaptive load control, and trailer-way control are standard.
In terms of 4x4 capability, there's 223 mm of ground clearance, while hill descent control, rear differential lock, and a low-range transfer case are fitted. For our adventure, we'd be piloting the 4x4 automatic derivative, which had the convenience of the 8-inch SYNC 3 infotainment setup.
Click here for all Ford Ranger specifications.
On the road (and off it)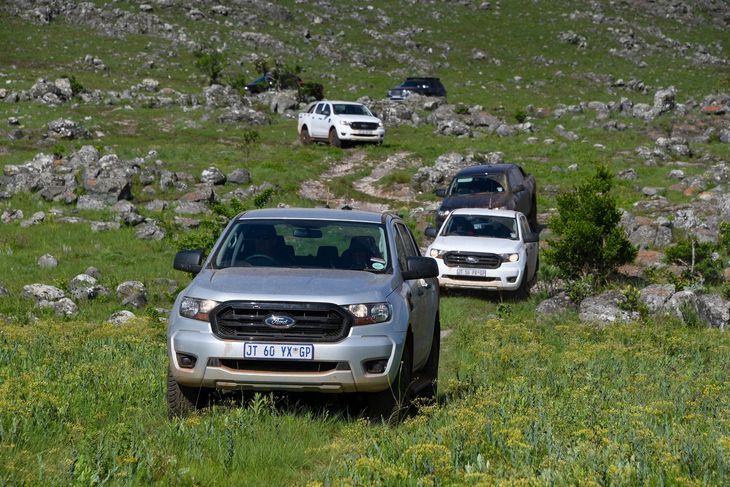 Coming down a steep section of the mountain. Hill descent control on!
For off-road-ready bakkies, there's no better test than being thrown into the deep end from the get-go. Our route would take us from the OR Tambo airport in Johannesburg to Hoedspruit's East Gate airport, through the most rural of villages (via an extraordinary network of dusty dirt roads) and finally over the Orrie Baragwanath Pass. This was going to be a launch drive with a difference, with more time spent driving on dirt than tar.
With the transmission set to 4-High, the levels of grip were always going to be high and we were able to confidently traverse long distances on some exceptionally poor gravel roads at a reasonable pace. The XL Sport's 2.2-litre engine offered adequate performance in conjunction with the 6-speed automatic transmission. But while the powertrain was fairly good, the real standout of the outing was the Ford's admirable fuel economy. We certainly didn't drive "with a light foot", but the bakkie's trip computer indicated 9.2 L/100 km, which is impressive, given the Ranger's heft.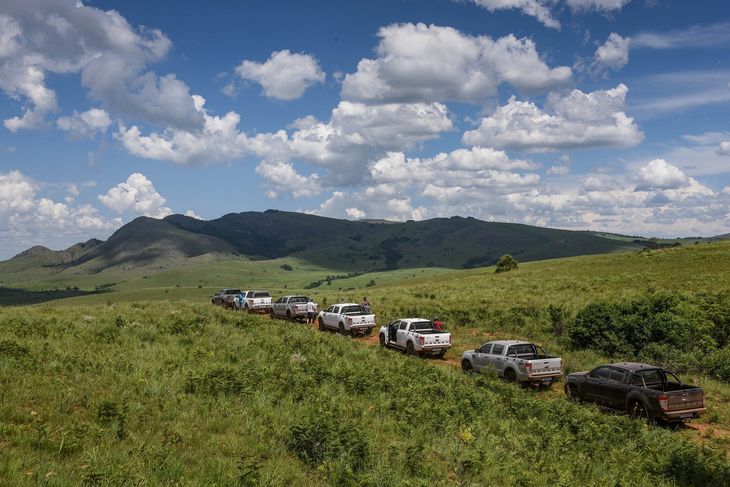 The Lekgalameetse Provincial Park is achingly pretty
Despite the switch from 16-inch to 17-inch wheels, the high-profile (265/65 R17) Goodyear Wrangler tyre was more than up to the task of soaking up all manner of road imperfections, ranging from mild bumps and ruts to the solid thumps that are part and parcel of rock climbing up a steep mountain pass. The Orrie Baragwanath Pass is located in a remote corner of Limpopo and forms part of the Lekgalameetse Provincial Park. The pass itself could barely be defined as a road, it's more "a clearing in the trees". Utilising low-range was an absolute must in those conditions.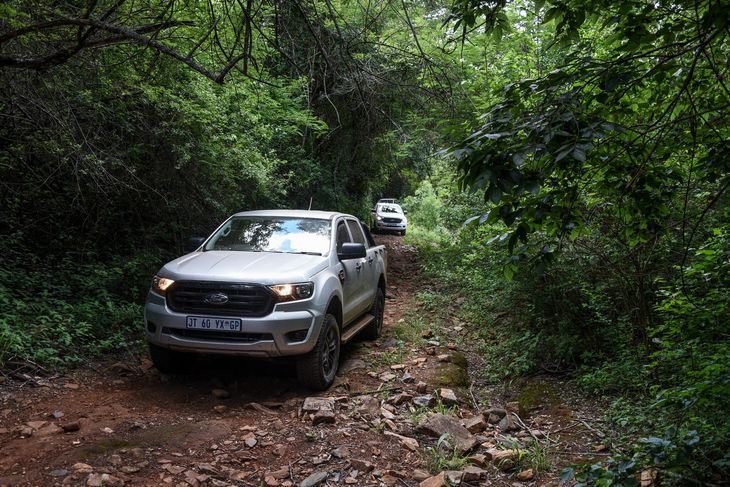 What we drove on could hardly be described as a road, it was more a rocky hiking path through a jungle.
Many of the sections were overgrown and the convoy had to stop so that the occupants of the lead vehicle could use pruning shears to remove errant branches in the vehicles' path. At times progress was ludicrously slow as we gently coaxed the Ranger over some forbidding rocks. It would have been quicker to get out and walk, but if we drove any faster, those "boulders" would probably have gashed the tyres' sidewalls.
Was it worth the arduous climb? Most certainly. The views over Mpumalanga made up for the gingerly progress of the trip and while we soaked up the incredible scenery, we took a moment to heave a collective sigh of relief that these bakkies all made it up the mountains without a hitch.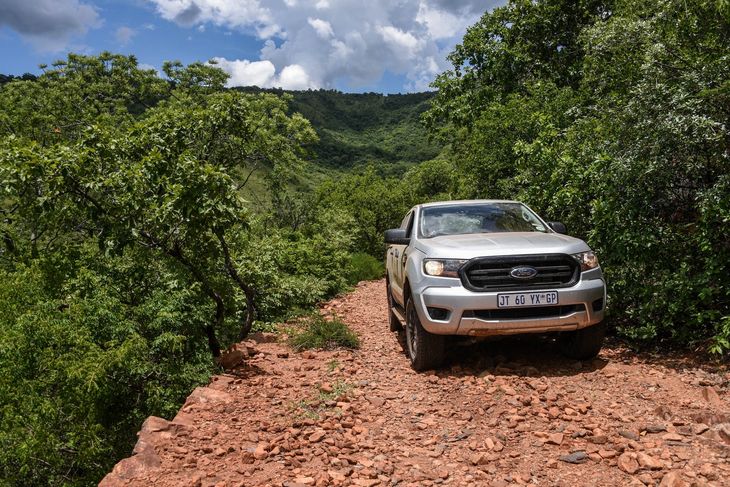 To the left of this picture was an extraordinary drop... better keep away from the edge!
Summary
Is the Ranger XL Sport still a solid and capable workhorse and that doesn't leave out too many comfort and tech features? It looks the part, but shouldn't you have stretched your budget and opted for an XLT derivative (with its all-new 2.0-litre single-turbo engine) instead? The answers are yes, and secondly, no, you won't feel short-changed if you chose this newcomer. It does everything you'd expect from a 4-wheel-drive Ranger and it has the creature-comfort basics covered while boasting a cool macho image. Those wheels will definitely win you points at your mate's braai.
We will say that the standard LCD infotainment system is simply not good enough and we implore you to fork out those extra Rands for the excellent 8-inch SYNC 3 infotainment system. R6 000 isn't cheap, but the features justify this expense – navigation, music streaming services – and even the ability to listen to and compose WhatsApp messages without your hands leaving the wheel – are just some of the luxuries available.
And finally, while most Rangers are unlikely to get pushed to the extreme levels of "gravel travel" and rock-climbing that the XL Sports were on this particular excursion, it's thoroughly reassuring to know that virtually every 4x4 derivative in the venerable Ranger's line-up is tough and capable.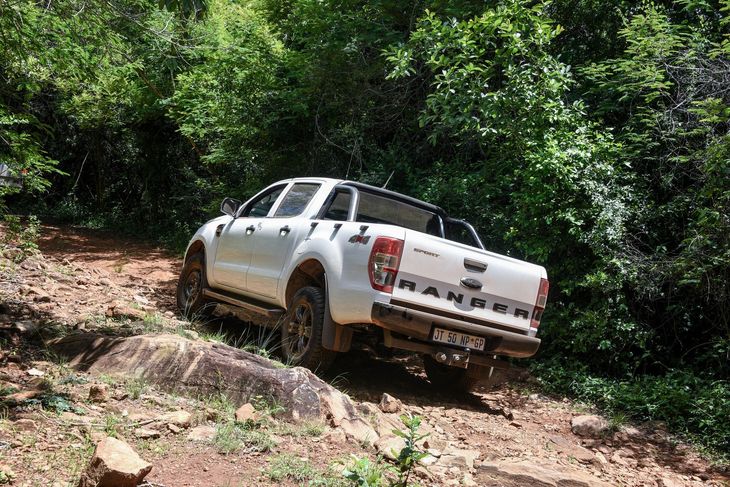 First gear, low-range engaged... now, carefully crawl forward.
Ford Ranger XL Sport Price in South Africa (December 2020)
The Ford Ranger is sold with Ford Protect, which consists of a 4-year/120 000km comprehensive warranty, 3-year/unlimited distance roadside assistance and 5-year/unlimited km corrosion warranty. A 6-year/90 000 km service plan is included, which covers 6 services. The recommended service interval is 15 000 km or annually, whichever occurs first.
Ford Ranger XL Sport pack R16 500 additional cost onto the base price of the Ranger XL Series.
8-inch touchscreen infotainment system R6 060
Dealer-fitted side steps R5 050
Further Reading:
Bold look for Ford Ranger Wildtrak X
Ford Ranger XL Gets Spec Boost in SA
Ford Ranger Thunder vs Wildtrak: Key Differences
Ford Ranger 2.0Bi-T DC 4x4 Wildtrak auto (2019) Review
Cars.co.za Consumer Awards, powered by WesBank, Concludes Testing at Gerotek