The bakkie market is awash with tuners and armouring smiths, but it appears Ford itself is offering the most hardcore iterations of its products.
Bakkie tuning has levelled up of late and many are now offering bulletproofing and armour. We've been privvy locally to what SVI Engineering does and in early 2021 we'll be meeting its locally-armoured Ford Ranger.
However, if you're wanting something that's on another level and need a fleet, then allow us to introduce the specialities that can be found on the Ford Global Fleet Sales website. Don't bother trying to contact your local dealership about these, you'll have to go directly to the mothership. Pricing isn't mentioned either, and we suspect they won't sell to an individual.
Using the Ranger and Everest as platforms, Ford has created some near military-grade vehicles. With names like Ranger Armoured Assault Vehicle and Ranger Light Tactical Vehicle, these vehicles are built to survive just about everything this side of an airstrike. There's also a cash-in-transit vehicle based on the Ranger.
It's clear Ford has gone all out with the accessories too, with a loadbed with jumpseats, racks for guns, and there's enough armour to soak up small arms fire. Oh, and if you want to shoot back, there's a rear gunner compartment. You can also throw in emergency lights, uprated suspension and some solid-looking grilles. It appears the engines are untouched, so you can expect the older-spec 2.2-litre and 3.2-litre turbodiesels under the bonnet.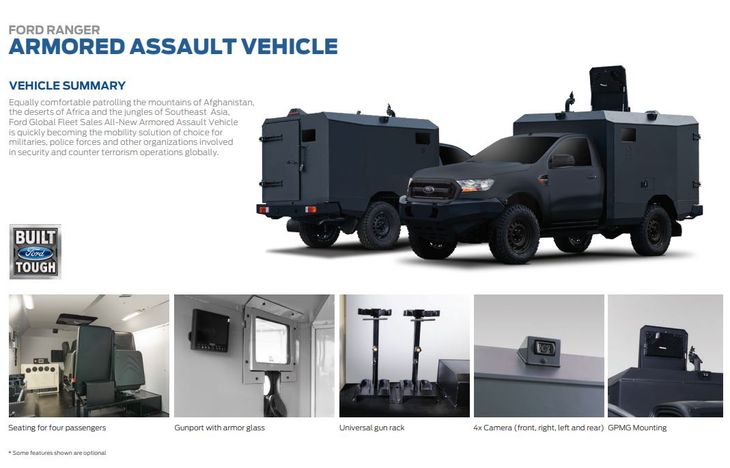 Further Reading
SVI MAX 9 Review - Driving the unstoppable South African 8-tonne military vehicle
New Land Cruiser bakkie is riot proof
Ford Ranger XL Sport (2020) Launch Review