America is winning the arms race (again)… Texas-based tuning company Hennessey has unveiled its first bespoke hypercar, which is powered by a twin-turbo 6.6-litre V8 that produces 1 355 kW and 1 617 Nm. Suffice to say the Venom F5's extreme performance figures, including a 500-kph top speed, simply beggar belief.
Developed to smash the world's top-speed record for road cars (courtesy of a claimed Vmax of in excess of 500 kph), the carbon-fibre-bodied Venom (its monocoque weighs just 86 kg) is based on a new in-house-designed platform and doesn't rely on hybridisation or active area for its astounding speed – instead, it utilises a stonking engine, a dry weight of 1 360 kg and a very slippery shape.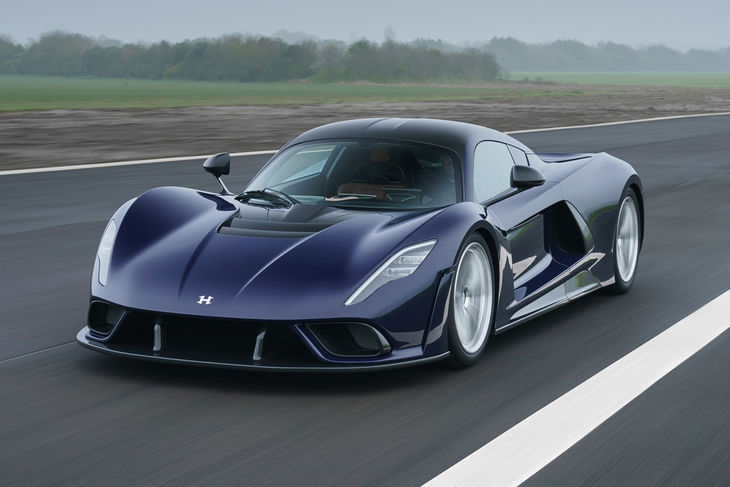 Named after the highest rating on the Fujita hurricane-strength scale, the Venom F5 is simply rear-wheel-driven. Its 6.6-litre V8 (named Fury, replete with a cast-iron block, aluminium heads, forged con rods and pistons, plus billet-steel crank- and camshafts) is mounted on a tubular aluminium subframe and mated with a 7-speed single-clutch automated transmission and a limited-slip differential.
Boost comes courtesy of 2 ball-bearing turbochargers with 3D-printed printed titanium compressor housings and 76-mm billet aluminium compressor wheels that can deliver up to 1.58 bar of boost. Peak power (1 355 kW) is developed at 8 000 rpm, while Hennessey says maximum torque is 1 717 Nm, of which at least 1 356 Nm is available from 2 000 rpm to 8 000rpm.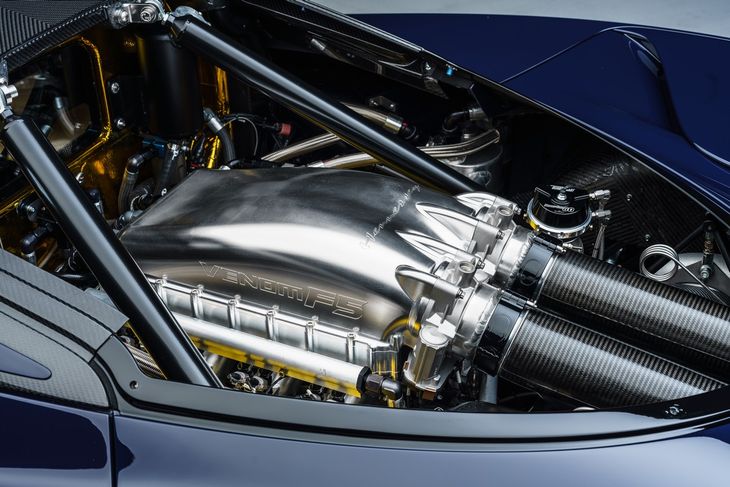 Surprisingly, the 90-degree cross-plane-crank V8 engine, which weighs just 280 kg, wasn't custom-made – it's based on a GM motor. The firm's chief executive John Hennessey says the pushrod engine's was favoured due to its more compact dimensions and lower centre of gravity, as well as his company's expertise in tuning it. Hennessey Performance Engineering, which will celebrate its 30th anniversary next year, already offers a twin-turbo 895-kW upgrade for the C8 Corvette in the US.
But just how fast is the Venom F5 claimed to be? Well, in its bid to become the fastest road-legal car in the world, the newcomer is said to accelerate from standstill to 100 kph in 2.6 sec, from zero to 200 kph in 4.7 sec and from 0 to 300 kph in 8.4 sec. Stopping power is provided by a carbon-ceramic braking system with 390 mm discs all round, clamped by bespoke 6-piston calipers at the front.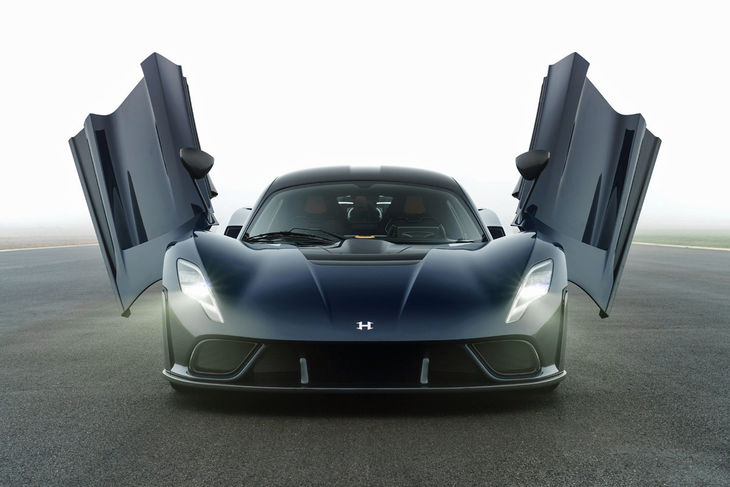 Aesthetically speaking, the Venom T5 is the most elegant hypercar since Gordon Murray's recent T.50; its slippery exterior design, which incorporates the obligatory butterfly doors is purposely unfussy, with an elaborate front splitter, triangular side air intakes, louvred rear screen/engine cover and a matt black diffuser below the quartet of integrated exhaust outlets. There's no pop-up wing!
Furthermore, the American firm has shod the hypercar with forged aluminium alloys to lower its unsprung mass – 19 inch at the front and 20-inch at the rear – wrapped in Pilot Cup Sport 2 tyres.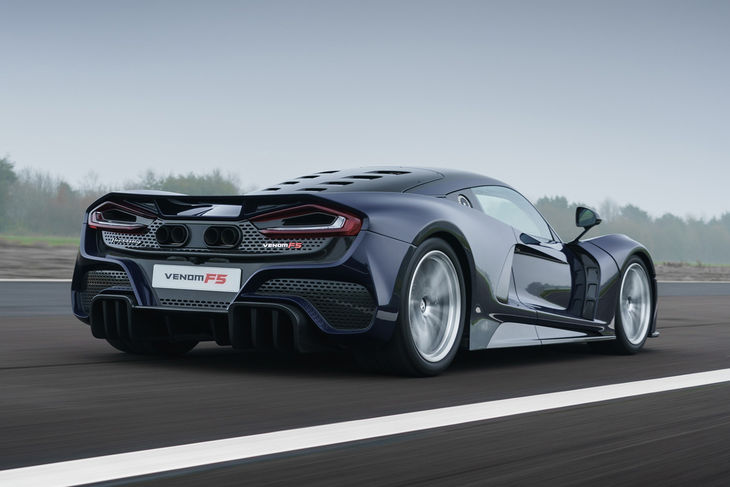 Despite its enormous performance, the F5 Venom has been designed to stay drivable at lesser speeds and to cope with roads and tracks as well as it does v-max runs. The double-wishbone suspension uses passive Penske dampers, but these can be adjusted for bump and rebound, and the car also offers 5 selectable driving modes, including Drag for acceleration and F5 for top-speed runs.
The hypercar's cabin, meanwhile, was inspired by the cockpit of a fighter jet. It features swathes of carbon fibre (including the centre console and steering column) combined with leather trim on the dashboard, door linings and the body-hugging embroidered bucket seats. A touchscreen infotainment system is fitted, along with a U-shaped steering wheel and a 7-inch digital instrument panel.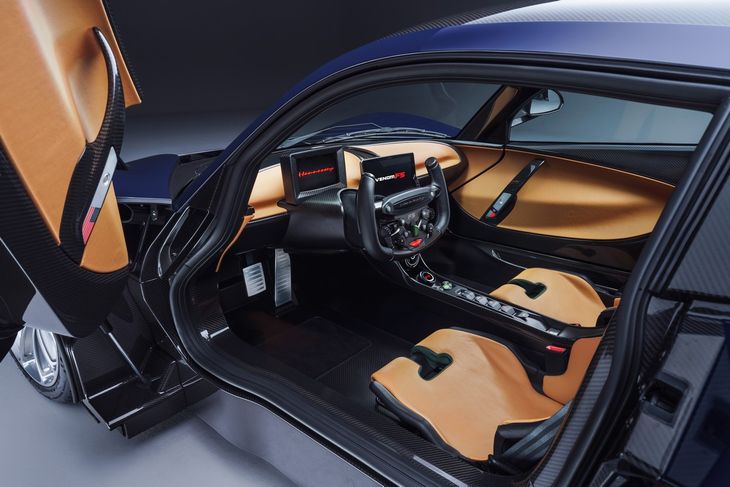 Production will be limited to 24 cars and Hennessey says it has taken deposits for half of those units.
So, what's next for the Venom F5? Hennessey will complete top-speed testing in the first half of 2021 at the NASA shuttle landing facility in Florida. More top-speed runs will follow a development programme at Hennessey's own testing facility and the Circuit of The Americas – with legendary racing driver and vehicle dynamics expert John Heinricy (who is the chief engineer on the project) conducting the bulk of hands-on testing.
Related content:
Mercedes-AMG Project One on track
10 Cool Things: Gordon Murray's T.50 hypercar
Aston Martin Valkyrie hits the road
Horacio Pagani unveils Imola, BC Roadster [Video]