Yes, there is an all-new Isuzu D-Max bakkie in the pipeline, but that will only become available in South Africa in 2021. In the meantime, Isuzu SA has updated the current range by introducing automatic-transmission versions of its 250 turbodiesel derivatives. Ernest Page reports...
When General Motors' departure from South Africa was announced back in 2017, consumers were concerned about Isuzu's future (at the time, few people realised that the Japanese firm, although distributed by the US company in the local market, was an independent company). But in the last 2 years, Isuzu South Africa has taken over operations at the Port Elizabeth plant (it merged production of bakkies and trucks to great effect) and, out in the public domain, the company's gone on to win 2nd place in the Brand of the Year category at the 2019/20 #CarsAwards – powered by WesBank.
Isuzu's stellar performance in the Cars.co.za Consumer Survey reflects that customer satisfaction is at an all-time high and the next-generation Isuzu D-Max, which should arrive around the 2nd half of 2021, has bakkie enthusiasts salivating. Until then, however, Isuzu has 1 important card to play: add an auto box to one of its best sellers: the 250 D-Max (or KB250, as it was formerly known).
Just as tough as before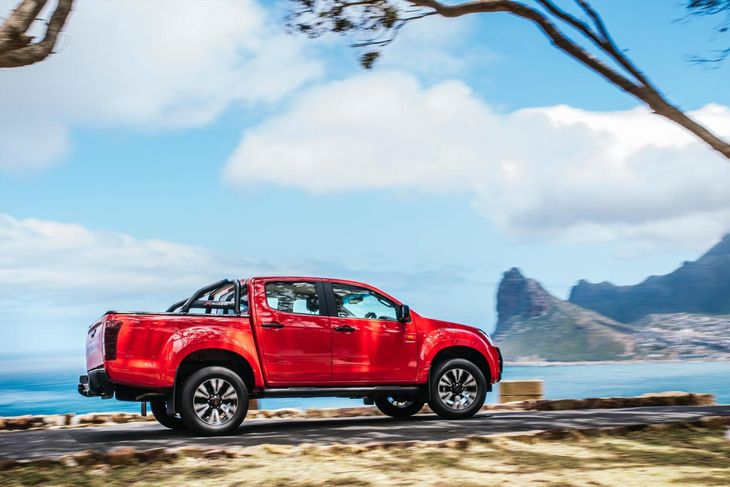 Isuzu placed 2nd in the 2019/2020 #CarsAwards Consumer Satisfaction Survey.
Isuzus still have a reputation for being tough – so tough, in fact, that the word leisure isn't often used to describe any other derivative than the top-of-the-range automatic versions. The stories often told about Isuzus usually entail tales of many millions of miles travelled. But, to make the D-Max more appealing to the leisure market, an automatic 'box is now available on 5 versions of the 250 range.
It's very smooth...
During a lengthy chat with Dominic Rimmer, Isuzu Motors South Africa's senior vice president of technical operations, he confirmed Isuzu was one of the very few local manufacturers to still test their bakkies extensively for local conditions. This included months of suspension and setup tests and choosing tyres that were perfectly suited to Mzansi's driving conditions (and driving habits).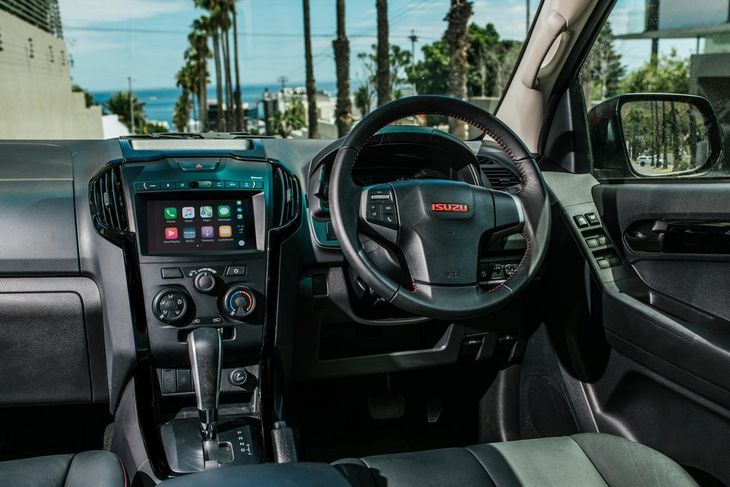 The functional interior might not shout lifestyle but it's near bulletproof reliable.
Isuzu's research shows that South African bakkie owners generally travel longer distances than in other markets (and at higher speeds). The road conditions in South Africa also vary more than in most developed countries. Therefore, the durable yet smooth-running General Tyre AT Grabber was chosen for the 250 D-Max. The tyre is said to complement the damping of the bakkie in such a way as to provide a soft-yet-reassuring ride quality – even when operating at higher speeds. You can really tell the bakkie's suspension tuning has been tweaked for our "uniquely South African" road network.
And the transmission?
While driving in mixed conditions, I endeavoured to test the auto box by purposely varying my driving behaviour. When the 250 D-Max was cruising at speeds of around 120 kph, the transmission felt well-calibrated, with sufficiently prompt responses when it was required to kick down, overtake and coast. Even the engine-braking felt natural and intuitive; my only bugbear was that the drivetrain snatched slightly when shifting down to 1st in congested traffic. For consumers who spend most of their time travelling in urban areas, the self-shifting Isuzu is a credible option at an affordable price.
The tried-and-trusted 100 kW/320 Nm turbodiesel engine is quite well-matched with the 5-speed automatic transmission and I can imagine that opting for a 6-speed unit instead would have added more cost without any obvious/substantial benefit to drivability. By the way, the claimed average fuel consumption figure for the new auto derivatives is a very respectable 8.1 L/100 km.
Summary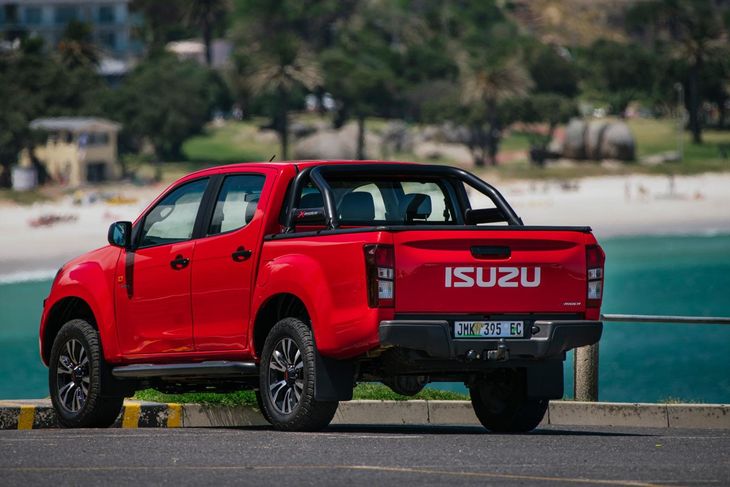 The D-Max autos now offer a keen entry point for the range.
Isuzu plans to invest more than R1.2 billion to optimise the next-generation Isuzu bakkie for the Southern African market, which includes sourcing parts locally and ensuring that the bakkie will be able to withstand harsh operating conditions. The current model has been around for a long time, but for what it lacks in the latest features and safety technologies, it makes up for in value for money.
Starting at R403 200, the Isuzu 250 D-Max automatic is priced lower than both Ford and Toyotas alternatives and also boasts one of the best warranties of any manufacturer. It's still not AS lifestyle-oriented as those two rivals, but certainly carries enough appeal to give Isuzu fans the alternative they need until the 2021 model arrives. Will it entice other bakkie owners? Yes, I think so.
Pricing:
D-Max 250 Extended cab Hi-Ride Auto R403 200
D-Max 250 Double cab Hi-Ride Auto R435 300
D-Max 250 Double cab LE Auto R459 000
D-Max 300 Double cab Hi-Ride Auto R464 100
D-Max 250 Double cab X-Rider Auto R474 700
Related content:
Isuzu Adds Automatics To D-Max Range
Isuzu D-Max Arctic AT 35 (2019) Launch Review
Isuzu finally offers diff-lock MU-X
New Isuzu D-Max to be Built in Eastern Cape