With its legendary off-road ability and unique (as well as highly customisable) looks, the Wrangler is one of Jeep's most popular offerings in South Africa. At first glance, the latest model appears to offer "more of the same", but the brand speaks of far-reaching improvements... We put the Unlimited 3.6 Sahara to the test.
We like: Feels unstoppable off-road, rugged looks
We don't like: Footwell intrusion, fuel thirst, "wandering" steering
Fast Facts
Model: Unlimited 3.6 Sahara
Price: R893 293 before options (January 2021)
Engine: 3.6-litre V6 petrol
Power/Torque: 209 kW/347 Nm
Transmission: 8-speed automatic
Fuel consumption: 10.3 L/100 km (claimed)
Top speed: 177 kph
What is it? ​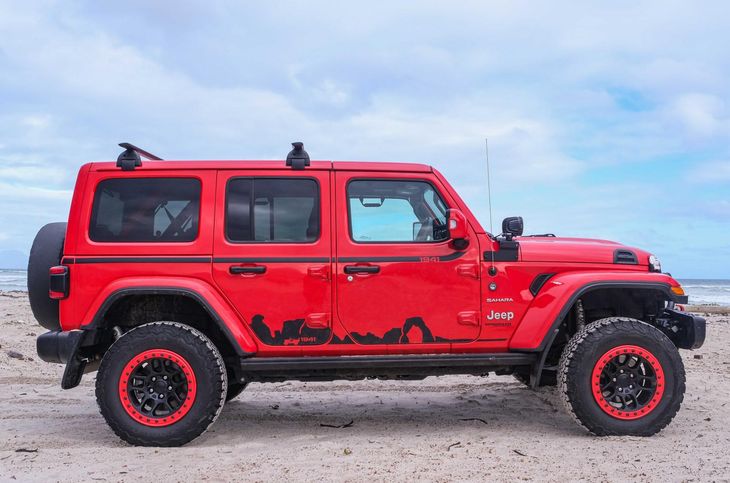 The Wrangler's unmistakable design can be further customised with no fewer than 180 Mopar accessories.
In a market where double-cab pick-ups and road-biased SUVs dominate, an "old-fashioned" off-road-specific vehicle such as the Jeep Wrangler could appear to be a non-starter, but the rugged American has carved itself a sizeable fan-base in South Africa nonetheless. A new model was launched internationally in 2018 (and became available in South Africa in mid-2019); it is offered in 2- and 4-door (Unlimited) guises.
Although being labelled as "all-new" by Jeep, the latest model is unmistakably a Wrangler. In fact, the emphasis during the redesign appears to have been on enhancing the aspects that endow the Wrangler with its niche appeal – macho styling, customisation options and, of course, excellent off-road ability. But does that narrow focus enhance the Wrangler's appeal, or result in a vehicle that is simply too compromised? Let's find out.
How it performs in terms of...
Performance and ride/handling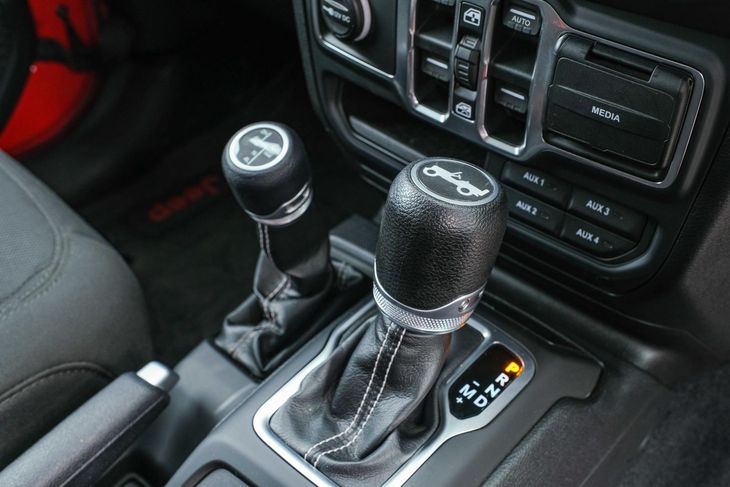 It's not often you see a 2nd lever for a transfer case anymore. The Wrangler can shift-on-the-fly between 2WD and 4WD High at up to 72kph.
While there's a lot of new tech (for a Wrangler) in this new iteration of Jeep's icon, the powertrain is familiar. Jeep's 3.6-litre Pentastar V6 has been given another round of upgrades (including stop/start) and now produces 209 kW at 6 400 rpm and 347 Nm of torque at a fairly high 4 100 rpm. Jeep does claim that a lot of work has gone into making more torque available at lower revs, and at really low speeds (such as when you are venturing off-road), the engine feels well-matched with the 8-speed automatic transmission – you'll only need low-range in extreme conditions.
But it's around town and in the "mid-range" where the V6 struggles to move the hefty Wrangler (which weighs well in excess of 2 tonnes) along with a sense urgency. That said, if you mash the throttle the nose will lift – speedboat-style – and the Jeep will bolt to 100 kph in less than 10 sec, but during general driving, there's plenty of "hunting" from the transmission. It's also thirsty... You can forget about the claimed 10.3 L/100 km claimed consumption figure and budget for something closer to an average of 13 L/100 km. In short, this Wrangler needs a torquey turbodiesel engine.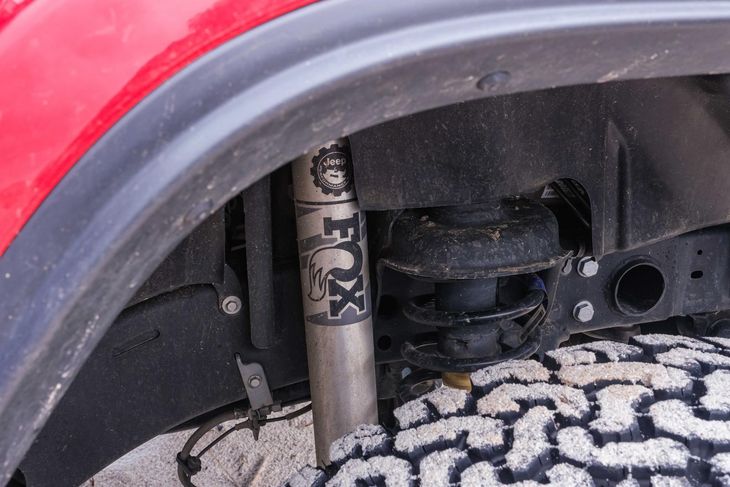 Test unit featured a further suspension raise as well as highly regarded Fox shocks.
In terms of its ride/handling balance, the Wrangler 3.6 Sahara Unlimited has a split personality. Let's get the negatives out of the way first. On the road, NVH (noise, vibration, harshness) refinement is poor, with plenty of wind and road noise entering the cabin. The steering is very vague too; in fact, the 'wheel feels almost disconnected from the front wheels around the straight-ahead position, and so the Wrangler tends to wander, needing constant steering input to keep the vehicle tracking true. Finally, and predictably (given its off-road biased underpinnings), there's a lot of body roll, which, combined with the sloppy steering (and compromised driving position) makes the Wrangler a chore to drive.
But, then again, a buyer who wants a Wrangler because they intend making regular off-road excursions with their vehicle may be willing to forgive the Jeep its poor on-road showing... because it's brilliant when the "going gets rough".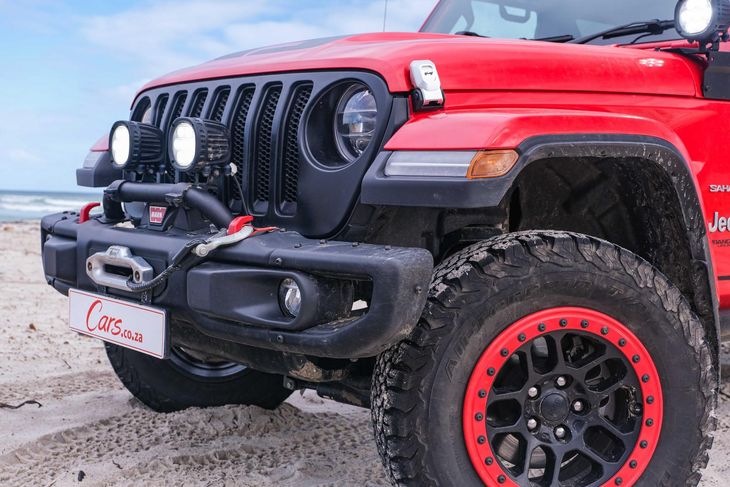 With its blunt front-end, high-riding suspension and chunky BF Goodrich tyres, this Wrangler Unlimited felt unstoppable off-road.
Featuring the Command-Trac four-wheel-drive system with a 2.72:1 low-range gear ratio, heavy-duty Dana front and rear axles and, in the case of this test unit, a further suspension lift, chunky 255/75 R17 BF Goodrich all-terrain tyres, Fox shocks and rock rails (among other items), the Wrangler Unlimited feels unstoppable off-road.
Exceptional ground clearance, combined with excellent approach/departure angles and the kind of axle articulation hardcore off-roaders dream about boost a driver's confidence in the Jeep's abilities. The only snag, really, is related to the drivetrain. It takes a while to get used to the Wrangler's throttle response (or lack thereof) and, on a few occasions we approached obstacles with either too much, or too little, oomph.
Exterior design & Packaging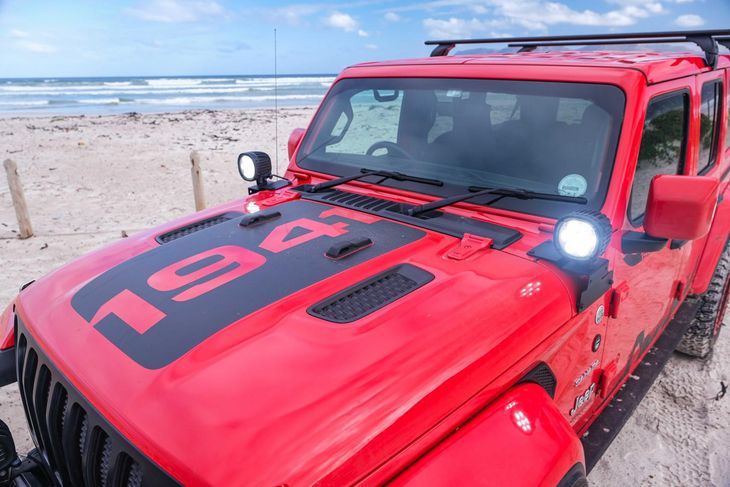 Rugged, macho looks accentuated by bright red paintwork and loads of optional extras.
Introduced in South Africa mid-2019, it's taken a while for a new-generation Jeep Wrangler to reach our test team, but when it did, it certainly made an impression. Finished in Firecracker Red and kitted out with a raft of Mopar accessories, this Wrangler turns heads like an Italian exotic. That's been core to its appeal for a lot of people, of course, so it makes sense that Jeep has stuck to a design that is known to have considerable appeal.
Compared with the dramatic update to its arch-enemy (the Land Rover Defender), which can be regarded as a clean break with the past (and is not targeted at previous Defender owners in the least), the latest Wrangler has been designed by incorporating the desires of existing or previous Wrangler owners. It features throwback open-air features such as a fold-down front windscreen, lightweight aluminium doors that can be easily removed (Torx bit-tool size stamped on the door hinges), as well as a 3-piece removable modular hard-top, for example.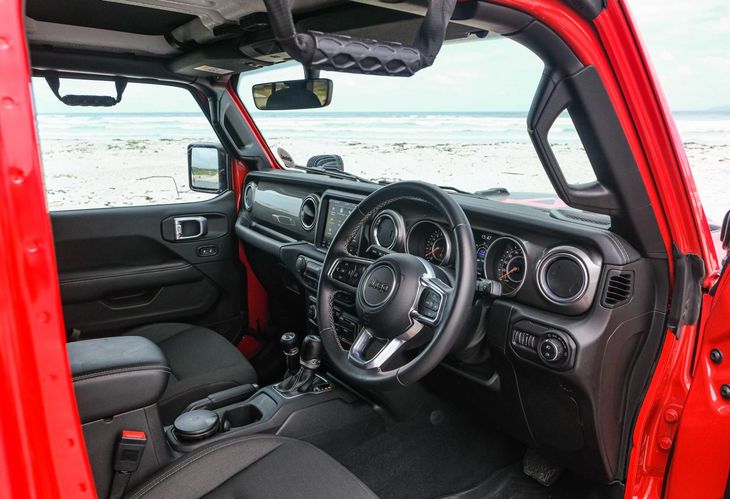 Interior features washable materials. Note hanging roof handles.
Inside, the generational change is far more obvious, with a modernised fascia featuring mixed analogue/digital instrumentation and a hangdown section dominated by the Uconnect touchscreen infotainment system. The materials used are of better quality than before, and Jeep claims that the interior is washable and even features drain plugs. That said, build quality is arguably only average, so expect some rattles and squeaks.
The driving position is another problem (it's a regular complaint with this marque). Due to noticeable footwell intrusion, there is nowhere to rest your left foot, except at a bent angle. The seats are good, though; you sit high with a commanding view over the bonnet (off-roaders will appreciate that), but the roof-mounted grab handles cause a minor irritation when they knock against the side windows, particularly when things get bumpy.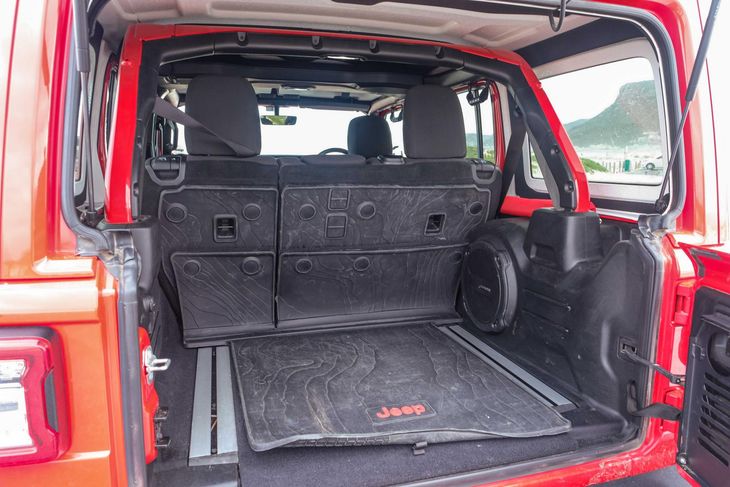 The relatively narrow (but deep) load bay is accessed via a split tailgate (glass opening upwards).
Given the Jeep's long wheelbase – it extends over 3 metres – we expected better rear passenger space (legroom, primarily) and the luggage compartment is also not overly generous (its claimed capacity is 548 litres), mostly due to the aperture being relatively narrow. Of course, the side-opening tailgate (split) is also, ultimately, not as convenient as a traditional upwards-opening unit.
Interior execution and features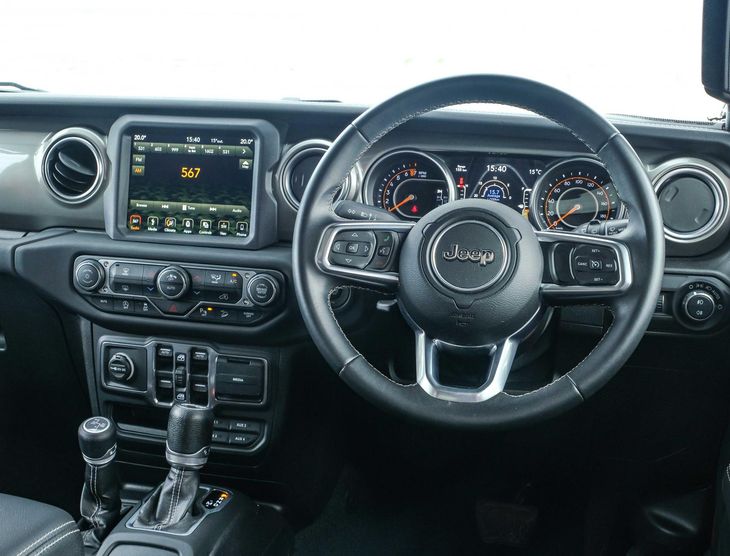 Undoubtedly improved in terms of ergonomics and offering a high specification level, but the driving position is flawed.
With its flat-faced fascia, better detailing and comprehensive specification, the Wrangler Unlimited's cabin appears inviting at first glance, but as outlined earlier in this review, there are some apparent flaws, notably regarding build quality, cabin insulation and the compromised driving position. That said, it undoubtedly marks an improvement over that of the previous model and is bang-up-to-date in terms of modern infotainment features.
The 4th-generation Uconnect system has an attractive 8.4-inch touchscreen interface that features not only the expected smartphone connectivity (including Apple Carplay and Android Auto) and pinch-to-zoom capability, but specific vehicle status displays (when using the vehicle off-road). Two USB ports are fitted front and rear. Dual-zone climate control is standard, as are cruise control, parking sensors and a reverse-view camera.
Price and after-sales service
The Jeep Wrangler Unlimited Sahara's base price is R893 293 (before options, January 2021). Included in the price is a 3-year/100 000 km warranty and 3-year/100 000 km maintenance plan. Service intervals are set at 12 months/15 000 km.
Browse for a new or used Jeep Wrangler on Cars.co.za
Verdict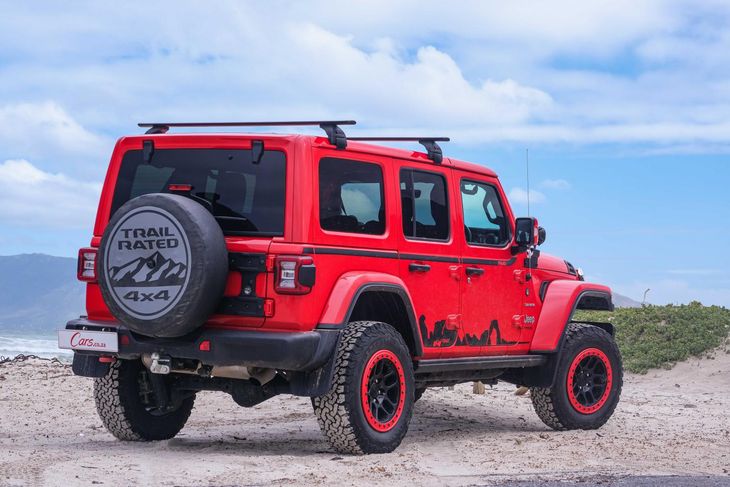 Wrangler remains a unique, niche offering that will appeal to either hardcore off-roaders or those who like the look. But a sensible choice? No...
The Jeep Wrangler Unlimited will appeal to 2 distinct camps – serious off-road enthusiasts, and those buyers who just like the look of the thing. Both of those groups of buyers will probably be happy to live with the Wrangler's compromised on-road demeanour because it excels in the aspects that, for them, are of top priority. This is not a vehicle for the undecided buyer – you either want it or you don't. If you don't fall into either of the camps (outlined above) a traditional leisure double-cab, or perhaps a rugged Toyota Land Cruiser 76, would be a better-balanced alternative.
Related content:
Jeep Grand Cherokee L coming to SA