Whereas most of Porsche's rival brands' performance SUVs are all about ultimate power and torque outputs, there is something decidedly sportscar-like about the new Cayenne GTS Coupe. We try it out on some of the Western Cape's best roads.
There are things about the GTS Coupe that will disturb some purists. Besides the perception that it really has no business being called a coupe – it has 4 doors, after all – this Cayenne also wears the hallowed GTS moniker. Now, of course, this isn't the first time Porsche has applied a GTS badge to a Cayenne, but it still creates weighty expectations – of agility, driver involvement... purity, even.
With this in mind, and as I blast up one of the great mountain passes near Cape Town, I'm transported back to 2004 and my first exposure to a Cayenne (it was the 1st-generation model). With its (let's be kind) "awkward" looks, the Cayenne E1 received a frosty reception from the world's media... until they drove it. I was no different... As a young journalist at the time, and with a purist's perception of what Porsche was supposed to be, I clambered into the Cayenne fully expecting to hate the premium SUV. After one drive down a particularly challenging piece of tarmac, however, I was won over. The Cayenne handled and steered like no other SUV, and appeared to be able to defy the laws of physics. Since that day there has only been one "sports SUV" worthy of the description, at least for me.
And so it has to be said that I got into this new Cayenne GTS Coupe with the expectation that it would be thoroughly good. Even so, the car's ability to corner with minimal body roll and deliver precise steering, thrilling acceleration, as well as an addictive soundtrack quickens the pulse and raises a smile. Porsche doesn't get things wrong often. They certainly haven't with this one...
Not just a chopped tail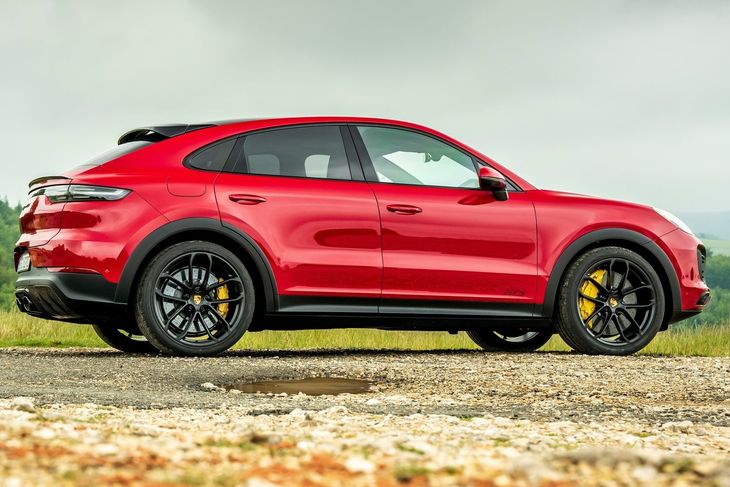 Sloping roofline, lower ride height and wider rear track give the Cayenne Coupe a notably different stance to the standard car's.
To make the Cayenne Coupe, Porsche hasn't merely grafted a sloping rear section onto the standard Cayenne's body. In fact, when it comes to external body panels, only the front-end is identical to that of the standard car. From the A-pillar backwards, every panel is different, starting with a windscreen header that is already about 20 mm lower than the standard car's. A subtle (but meaningful) difference is that the rear track of the Coupe is also wider, lending it a more purposeful stance in addition to the standard lowered (by 20 mm) suspension.
As standard, the Cayenne GTS Coupe features the Sport Design package, which incorporates a lot of black accenting, the most obvious of which are the wheelarch-filling 21-inch RS Spyder Design wheels. The piercing LED headlights with standard Porsche Dynamic Light System (PDLS) and that striking LED tail-light bar are also dark-tinted.
At the rear, a pair of large-diameter exhaust outlets feature on either side of the sculpted bumper, signalling the presence of the standard (and positively sonorous) sports exhaust system. As an option, a "high-frequency tuned" system, which is distinguishable by a pair of centrally mounted oval exhaust outlets, can be fitted. Integrated into the tailgate is an electrically deployed rear wing, which adds downforce when it is activated automatically at speeds above 90 kph. Of course, if you want to show off, you can also raise it at the press of a button.
Overall, and particularly when finished in the eye-catching optional (R54 390) Carmine Red paint, the result is a SUV Coupe which looks markedly less bulky than its main rivals.
Luxurious cabin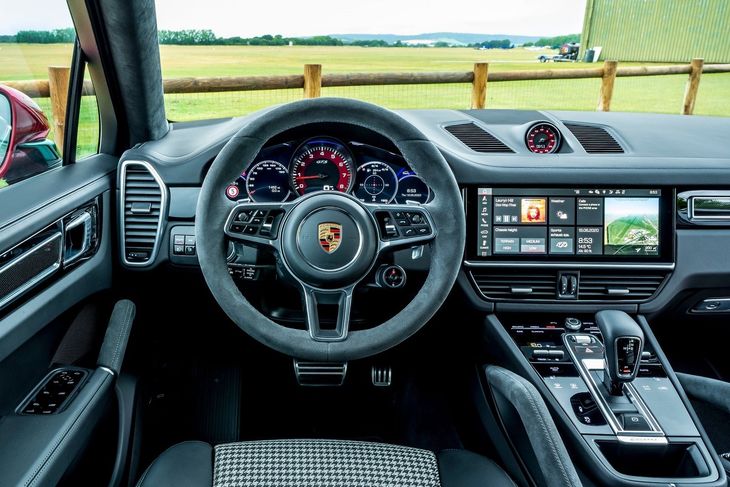 Ergonomically superb and immensely solid cabin gets a number of GTS-specific trim pieces.
Among the highlights of the interior, besides the (expected) rock-solid build quality, are the standard 8-way adjustable sports seats, which are exclusive to the Cayenne GTS derivatives. By virtue of their higher side bolsters, they really keep your derrière securely ensconced on the seat cushion when the GTS Coupe is made to corner rapidly. There are a number of GTS logos scattered throughout the cabin to remind you that you're in a special Cayenne, while Alcantara is applied to the rooflining, seat centre panels, doors and elsewhere. Dark-brushed aluminium, red seatbelts and a lovely interplay between traditional analogue and modern digital displays add some colour to an otherwise quite sombre cabin. Of course, there are options available to brighten things up further.
Despite the Cayenne Coupe's lower roofline and sloping rear section, passenger space is actually pretty good at the back – only really tall occupants will find that their heads touch the rooflining. I am 1.8-metres tall and fitted in easily behind my own preferred driving position – incidentally, Porsche has lowered the rear seat squabs to counter the model's lower roofline. In terms of luggage space, the Cayenne Coupe actually beats the sizeable BMW X6, but falls slightly short of the Mercedes-Benz GLE Coupe's capacity.
Exhilirating performance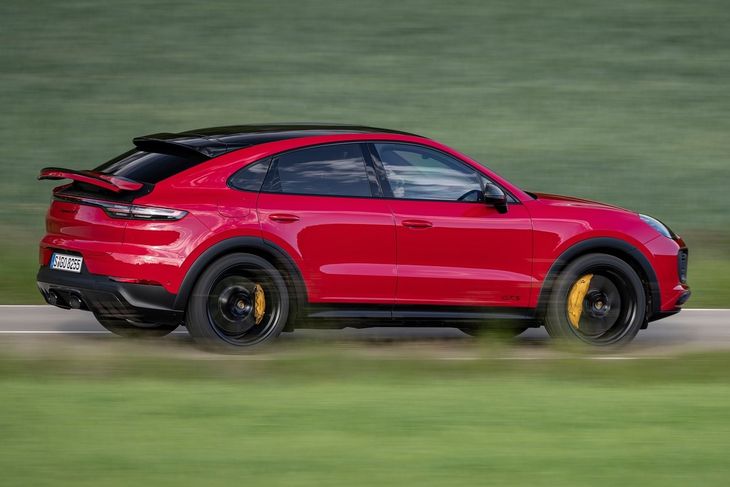 Rear wing deploys automatically above 90kph to add rear downforce.
Compared with the previous-generation Cayenne GTS, a big change can be found underneath the bonnet. Out goes the twin-turbocharged V6, and in comes a twin-turbo 4.0-litre V8 that delivers a whopping 338 kW from 6 000 to 6 500 rpm (so it loves to rev), and 620 Nm of torque from 1 800 to 4 500 rpm. Porsche claims a 0-100 kph time of 4.5 sec, which is only fractionally slower than the more powerful (390 kW) BMW X6 M50i (4.3 sec), and significantly better than the 5.3-sec time posted by the similarly priced Mercedes-AMG GLE 53 4Matic. A top speed of 270 kph is quoted.
So, in terms of performance figures, the Cayenne GTS Coupe does not give best to its main rivals. But sheer straight-line grunt is not this Porsche's trumpcard; it weighs 2 175 kg, yet handles in a way that will please the most ardent fans of Porsche traditional sportscar models. That is quite a feat.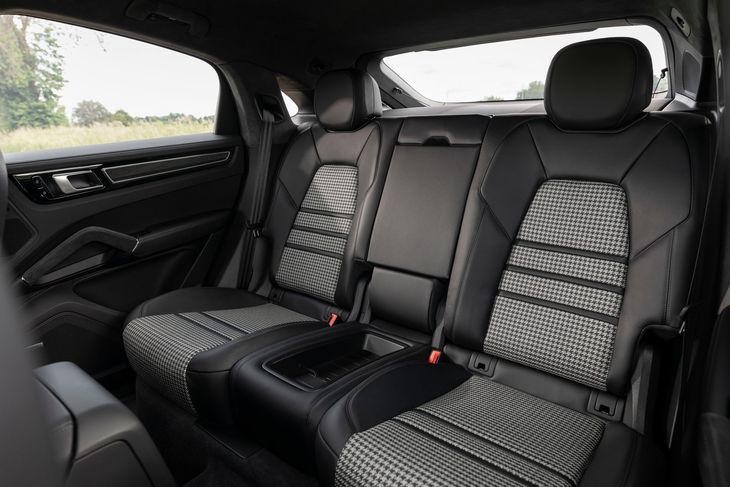 By lowering the height of the rear seat squabs to counter the drop in roofline, rear headroom remains good.
As standard, the Cayenne GTS Coupe is fitted with steel-sprung suspension that includes Porsche's Active Suspension Management (PASM). Torque Vectoring Plus is also fitted as standard. Optionally, you can specify 3-chamber air suspension, rear-axle steering and Porsche's Dynamic Chassis Control (PDCC) active roll stabilisation system as well.
Out on the road, and in its most comfort-oriented setting, the Cayenne GTS Coupe is a slightly firmer-riding SUV than most (as you'd expect), but it's hardly jarring and retains the suppleness (and slick 8-speed automatic transmission) that makes the standard Cayenne such a fine long-distance cruiser. You can use a steering-wheel mounted jogwheel to change driving modes, each of which reveals a distinct character trait of the Cayenne GTS Coupe.
In Sport Plus mode – the most aggressive setting – the steering weights up, the body control is better, the exhaust louder and... the throttle is a LOT more sensitive. With such abundant torque available at low revs you don't really have to wring the Cayenne GTS Coupe's neck to extract thrilling performance from it, but you'd nevertheless find youself doing just that, because the engine loves to rev and makes a glorious sound while doing so.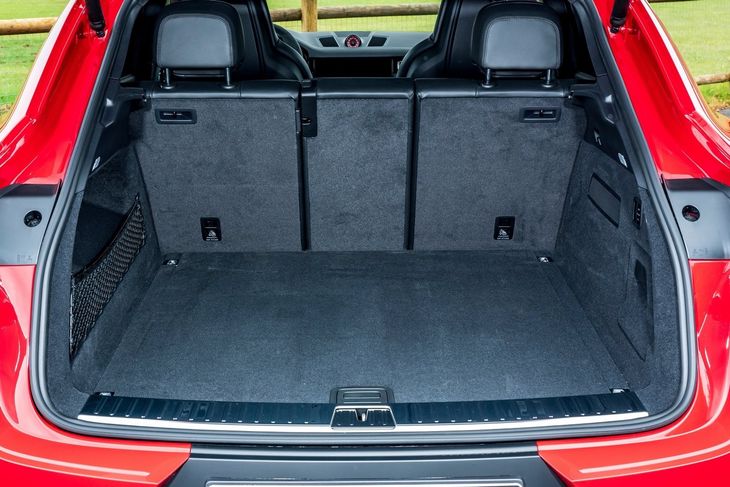 Boot is bigger than the BMW X6's, but lags the Mercedes-AMG GLE's. Still, big enough...
It's also when you start driving faster that you'll notice the cumulative effect of all those other small changes Porsche has made (the lower seating position, the bolstering of the seats themselves etc.) and this 2-tonne beast's innate ability to shrink around you, making you feel like you're behind the 'wheel of something else entirely. Don't get me wrong, it can never be the equal of, say, a 911 when it comes to producing instant driving thrills, but it's safe to say that this is the 911 of SUVs, and that is meant as a massive compliment.
Summary

In GTS trim, in particular, the Cayenne Coupe is arguably the king of the SUV Coupes.
The Cayenne GTS Coupe is priced to compete with the BMW X6 M50i and Mercedes-AMG GLE 53 4Matic, and like its countrymen, comes with an extensive and list of tantalising optional extras. However, compared with the M50i and GLE 53, the Porsche is comfortably the best packaged of the three... and by some margin, particularly if driving enjoyment ranks high on your list of priorities. It's even quite a looker, which is not something that can be said of most SUV Coupes, and quite a feat considering where the Cayenne started (aesthetically-speaking) all those years ago.
You may also be interested in;
Fastest SUVs in the world for 2020/21
6 Things you need to know about Mercedes-Benz's updated SUV range