Rolls-Royce will produce a dozen Neon Nights-themed Wraith-, Dawn- and Cullinan Black Badge derivatives and the trio of audacious Day-Glo-like finishes are inspired by an Aussie tree frog, a Hawaiian tree flower and a South American butterfly. Although these solid-coloured cars are undeniably attention-grabbing and utterly bespoke status symbols, this bold collection arguably represents a case of Rolls pushing the boundaries of good taste to their absolute limits!
Described by the Goodwood-based firm as the darker and edgier enfants terrible (precocious children) of the family, this Neon Nights trio is NOT part an elaborate publicity stunt and it isn't a product of a bored aspiring digital artist's mucking about with image-editing software in the wee hours of the morning either. The creations are based on Black Badge derivatives of the brand's coupe, cabriolet and first-class SUV and a genuine product line. Bathed in "super-solid Neon Nights colours", the cars were created initially for clients in the United States... and now the British marque plans to build more!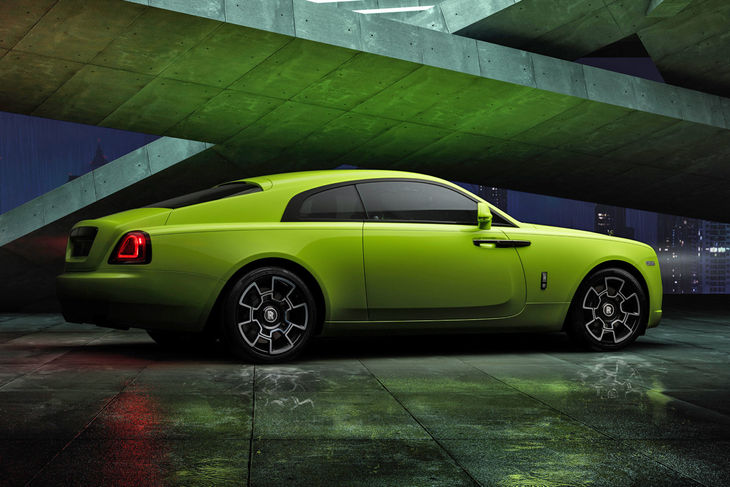 The Wraith Black Badge is finished in Lime Rock Green. Kermitmobile?
Rolls-Royce says it will now make 3 further iterations of each colour "available for commission" (that's Rolls-Royce speak for "the order books are open and if you have to ask the price, don't bother enquiring"), which will mean a limited run of just 4 cars of each retina-searing hue.
Like all manufacturers of super-luxury cars, Rolls' bespoke division will allow you to specify a car to your heart's content to ensure there will be no other example of the model you've bought in the world that will be identical to yours. Rolls-Royce famously claims to be able to finish a car in any colour that you'd like, all that you have to provide is a sample or an example of the hue of your dreams... But whereas there are supremely dear cars dotted around the globe festooned with the most peculiar exterior finishes, the Goodwood-based firm is happiest to celebrate buyers' decidedly eccentric tastes.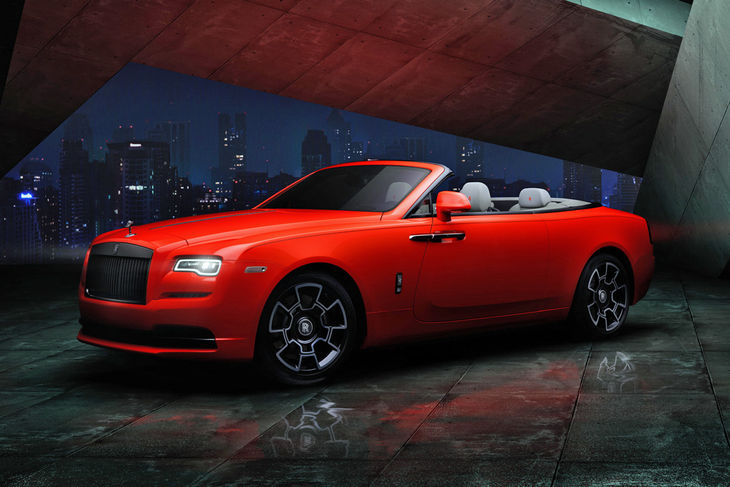 Dawn Black Badge is finished in the provocatively named Eagle Rock Red.

Wraith Black Badge (shown at the top of the article) is finished in Lime Rock Green, a near-luminous hue naturally bestowed on the Australian green tree frog, which Rolls-Royce Bespoke Paint Specialist Sami Coultas first encountered on a trip to Tamworth, north of Sydney. The interior is swathed in Scivaro Grey leather, with Lime Rock Green accents in the form of stitching and piping.

Meanwhile, the striking Eagle Rock Red created for the Dawn Black Badge mimics the flowers of 'Ōhi'a lehua, an evergreen tree native to Hawaii. The interior is finished in Selby Grey leather with Koi Red stitching and piping details.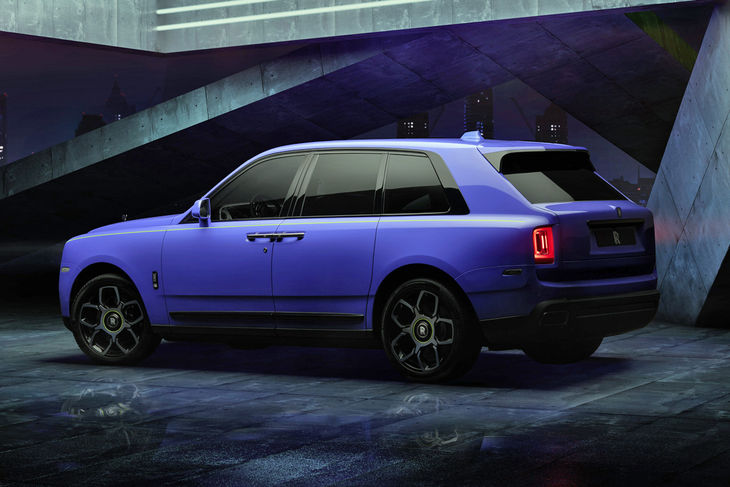 Mirabeau Blue has a more marketable name than Rhetus Periander Blue.
And lastly, for the Cullinan Black Badge, Rolls-Royce looked to an exotic butterfly, Rhetus Periander for inspiration. Known as the Periander metalmark, this species is found across Central and South America; the vibrancy of its wings is said to be "faithfully captured" in the blue finish. The SUV's Arctic White leather interior (detailed in Lime Rock Green) provides a dramatic contrast.
In all 3 cars, the Technical Fibre fascia is embellished with a spectacular graphic, the brand says. The paint effect provides an intense neon glow and depicts the distortion of artificial light with speed.
2020 has been a strange year for everyone, including Rolls-Royce; in August, the brand launched the Wraith Kryptos "puzzle car", which features a labyrinth of complex ciphers in its detailing, which buyers were challenged to try to solve. And, it's not the first time that the Goodwood-based firm has "pushed the boat out" with an outlandish palette of exterior colours...
At the 2019 Pebble Beach motor show, Rolls-Royce displayed Ghost, Wraith and Dawn Black Badge derivatives finished in – wait for it – pastel colours. What will they think of next?
Related Content:
Rolls-Royce Cullinan Goes Offroad
Rolls-Royce reveals Dawn Silver Bullet