Spy shots of the soon-to-be-revealed BMW 4 Series Gran Coupe have emerged. Here's what you need to know about the 4-door coupe.
Picture credit: S. Baldauf/SB-Medien. We have paid for these photos and at the photographer's request, have watermarked them.
While many have suggested the pretty 4-door Gran Coupe is what the BMW 3 Series should have always been, it never sold in enough numbers to justify such a claim. Nevertheless, BMW thinks there's enough demand to satisfy the creation of a new 4 Series Gran Coupe and these spy shots show a near-ready prototype on European roads. It's immediate rival would be the Audi A5 Sportback.
We can see right away it adopts the 4 Series design cues, from the bold and controversial nose, to the neat tail lamps at the rear. Judging by the size of these exhausts, we reckon this is the M440i xDrive derivative. Powered by a 3.0-litre turbocharged 6-cylinder petrol engine developing 275 kW and 500 Nm, and it's good for a 4.5 second run to 100 kph. The current BMW 4 Series engine lineup for SA includes this motor, as well as a 4-cylinder 20i petrol and 20d diesel.
Given its shape and hatchback rear, expect the new 4 Series Gran Coupe to shade the 3 Series when it comes to rear boot space, at the expense of rear headroom. It will also adopt the 4 Series switchgear and cabin layout, in an effort to differentiate it from the 3 Series sedan.
Expect to see the new BMW 4 Series Gran Coupe revealed by the middle of 2021.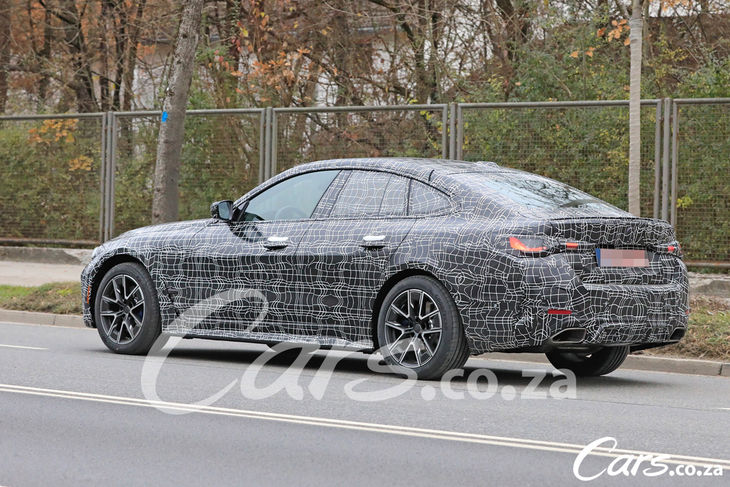 With those big exhausts, this is the BMW M440i xDrive Gran Coupe.
Further Reading
BMW 4 Series (2020) Specs & Price