Suzuki SA recently introduced an updated Ignis to the local market. While the model does incorporate revisions, they're relatively minor – and the 1.2 GLX's asking price is now well above the R200k-mark. Does the Ignis still represent good value as a "budget hatchback"?
We like: Excellent fuel consumption, exceptionally well specced, easy to drive, competent on gravel, still good value.
We don't like: Lack of stability control, small fuel tank, top-heavy handling
Fast Facts:
Price: R216 900
Engine: 1.2-litre 4-cylinder petrol
Power/Torque: 61 kW/113 Nm
Transmission: 5-speed manual
Fuel consumption: 5.1 L/100km
Boot capacity: 260-947 litres
​Performance: 0-100 kph in 11.6 sec
What's new?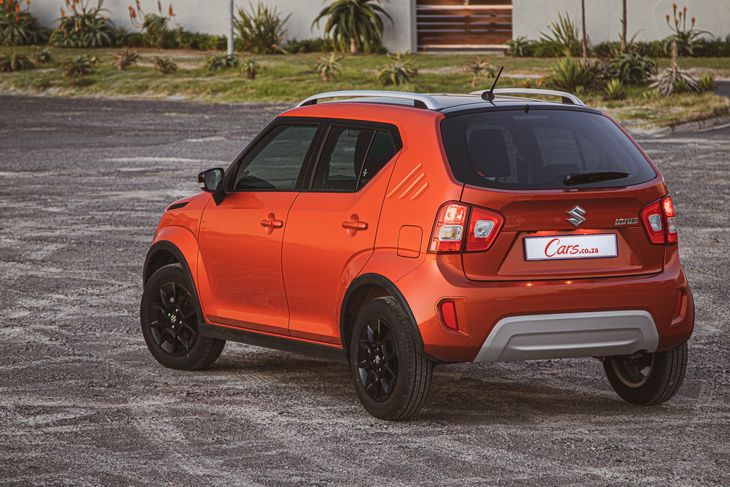 The Suzuki Ignis has been updated for 2020. The good news is that it has retained it's adorably cute looks!
The Suzuki Ignis burst onto the local scene back in 2017 and thanks to a combination of charming looks, great spec, and excellent economy, it garnered many fans. Plus, in the 2017/18 Cars.co.za Consumer Awards – powered by WesBank, the dimunitive Japanese hatchback was named the champion in the budget-car category.
Recently, the popular model was updated for the 2020 model year. The changes are minimal, but Suzuki says its refreshed look brings the Ignis more in line with the rest of the Japanese brand's portfolio. The GLX-spec Ignis gains roof rails and a chrome-look grille. When it was first introduced in the Republic back in 2017, the 1.2 GLX derivative retailed for R189 900. This updated equivalent now costs R216 900, which raises the question of whether it can still be justified as a value-for-money purchase?
Two years on from its famous Budget Car category win, it's time to take a look at the 2020 iteration of the Ignis, tested here finished in Lucent Orange.
How it fares in terms of…
Performance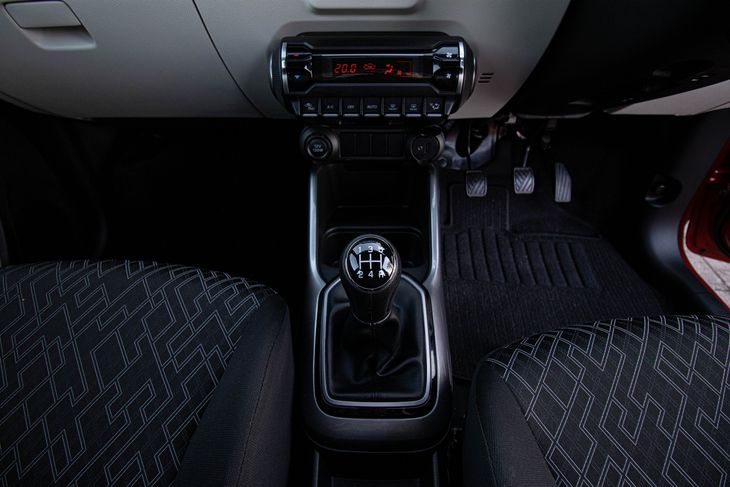 The 5-speed manual gearbox has a positive action and is light to use
Mechanically, the Suzuki Ignis has not changed; it's still powered by the same 1.2-litre naturally-aspirated petrol engine. We've had considerable experience with this thrifty engine... Granted, it's only a 1.2-litre unit with 61 kW and 113 Nm on tap, but when you consider the Ignis only tips the scales at 925 kg, you don't need much to get it moving.
Thanks to a slick 5-speed manual gearbox, which has a refreshingly light shift action, the Suzuki Ignis feels lively to drive round town; it never feels out of breath/underpowered. The engine is a willing performer (at least at sea level, with a driver and perhaps a front passenger onboard) and it's quite content to be revved out all the way past 5 000 rpm.
Mind you, the engine sounds a bit loud and gruff at the upper end of its rev range, but to remedy that "just hook the next gear and repeat the process". When you're driving at double-digit speeds in town, the Ignis keeps up with traffic with ease. The powertrain's limitations become obvious when the 1.2 GLX is travelling on the open road/freeway, only because overtaking manoeuvres at the national speed limit require the gearbox to be worked with vigour. But when the transmission's this easy to use, it's not major pain.
What's more, the Ignis is particularly frugal. Compact Suzukis tend to be exceptionally light on fuel and the Ignis is no different. Suzuki claims an average consumption of 5.1 L/100 km, and we saw an excellent indicated figure of 5.7 L/100 km. Even though our evaluation of the 1.2 GLX included a stint of spirited gravel-route testing, when the fleet manager sent us a photo of the vehicle's trip computer at the end of its test, the readout was 4.5 L/100 km! The only downside is that the fuel tank (32 litres) is a mite small.
Ride & Handling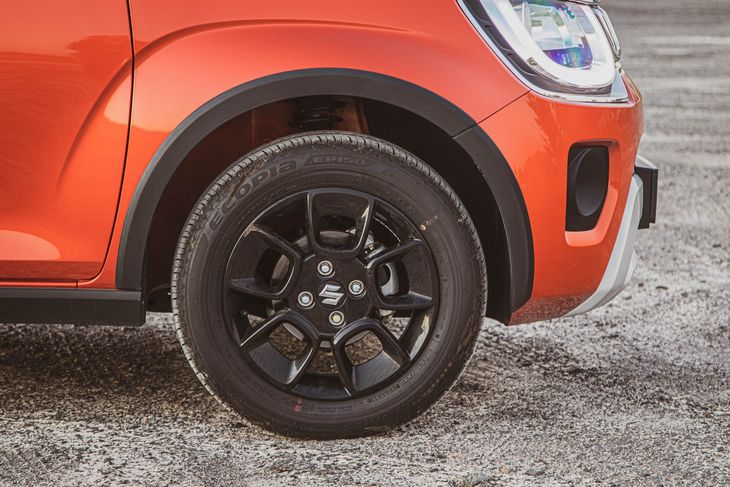 The Ignis rides on 15-inch alloy wheels. Ground clearance is a handy 180 mm.
Indeed, we spent some time driving the updated 1.2 GLX on an unsealed road – not something we recall doing during our review of the pre-facelift model. Suzuki claims 180 mm of ground clearance and while there's no 4x4 drivetrain, the little Ignis feels at ease on a gravel route. Granted, it's no Jimny, but it's reassuring to know the hatchback can handle potholed roads or mount a kerb if it has to. The car is shod with 15-inch alloys and while the ride is a touch firmer than we expected, it's on par for the segment.
The vast majority of Suzuki Ignis owners will use their vehicles to commute from suburbs to city centres, and, to be honest, the car feels in its element in this setting. The driving position is good because it feels like you are sitting higher up/in a more commanding position than in an equivalent hatchback or sedan. The steering is not the most direct setup; we found it necessary to make minimal adjustments to keep the vehicle tracking straight. Fortunately, the 'wheel is quick and doesn't require much effort to turn.
Downsides? Well, as mentioned with the seating position, you sit quite upright and that's partly due to the tall body style. This higher centre of gravity does mean that if you suddenly swerve, the vehicle does tend to lean/yaw a little. It's not a dealbreaker, but something to be mindful if you dart into a traffic circle when you're in a bit of a hurry.
Connectivity & entertainment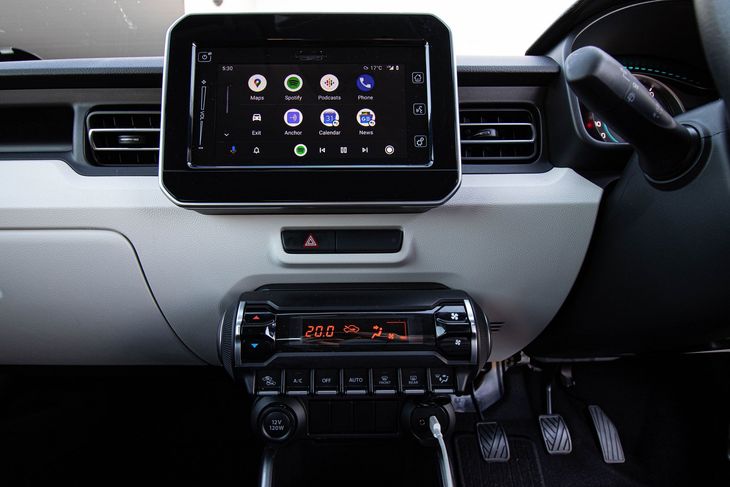 The infotainment is basic, but functional. However, when you connect your smartphone via USB, the connectivity functionality jumps 10-fold
The revised Suzuki Ignis' interior is a neat, unfussy space to occupy. The Hamamatsu-based firm has added some modern touches to the typically minimalist layout and, at this price point, we can't criticise the quality of the materials. It's a generally well-finished cabin that instantly feels durable. The 1.2 GLX's fascia is dominated by the touchscreen infotainment screen. It has a fairly intuitive interface and, thanks to Android Auto/Apple CarPlay compatibility, you can access the system's top-end functions by simply plugging in your smartphone. We found services such as Google Maps, Waze, Spotify and the function that makes your phone read out WhatsApps while you drive very convenient.
The instrument cluster, which is easily legible, is dominated by the central speedometer and features a comprehensive trip computer, with nice-to-have functions such as a distance-to-empty readout. The steering wheel, in turn, features satellite controls for the audio system as well as hands-free telephony.
Meanwhile, the generous GLX trim level includes features such as push-button start, daytime running lights, climate control, a reverse-view camera, rear parking sensors and front fog lights, all of which add to the value package. The only additional feature we would have liked is cruise control, but at this price point, it's not a must-have.
Our only notable criticism of the Ignis pertains to its safety specification. Granted, the 1.2 GLX does come with 2 front airbags and anti-lock brakes (ABS) with electronic brake-force distribution (EBD), but we think the addition of electronic stability control would have elevated the Ignis' safety suite to a level comparable with most compact hatchbacks.
Practicality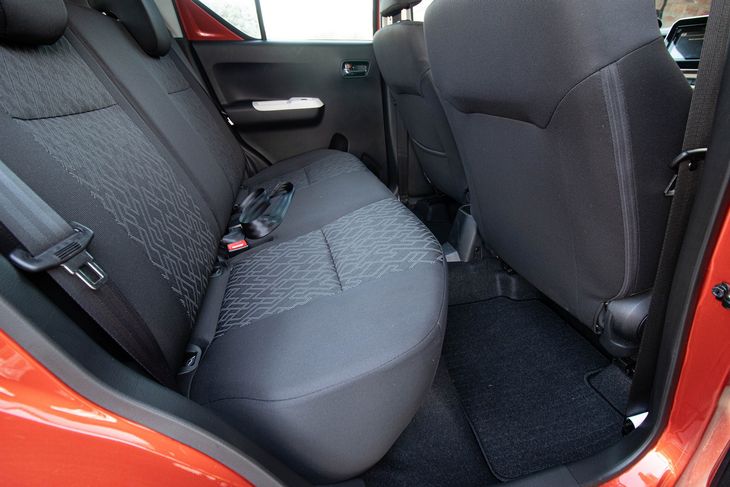 Rear legroom is adequate for small adults and children
When you first look at the Ignis, you might assume it's tiny inside, but don't let those cute looks deceive you. In some budget cars, larger occupants can bump shoulders, but that's not the case in the Suzuki. Plus, even though occupants sit a bit high, there's sufficient headroom for tall adults and the driver's seat is height adjustable. Rear legroom, on the other hand, is a bit tight, but not unusable.
The load-bay capacity is rated at 260 litres, with 947 litres of utility space said to be available with the rear seats folded down. With those aft seats retracted and the front passenger seat moved forward, you can even fit a full-sized mountain bike in there! The cabin also features plenty of storage compartments for keys and phones etc.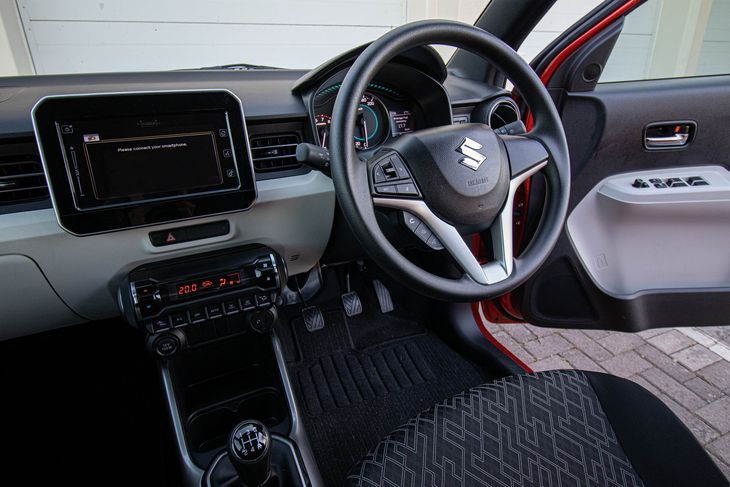 The Suzuki Ignis has a modern and well-assembled interior.
Pricing and after-sales service
Pricing for the Suzuki Ignis range starts at R188 900 and this top-spec 1.2 GLX costs R216 900 (August 2020). There is also an automatic version available for the GLX. The derivative comes standard with a 2-year/30 000 km service plan and Suzuki's promotional 5-year/200 000 km mechanical warranty, which includes 5 years' roadside assistance.
Verdict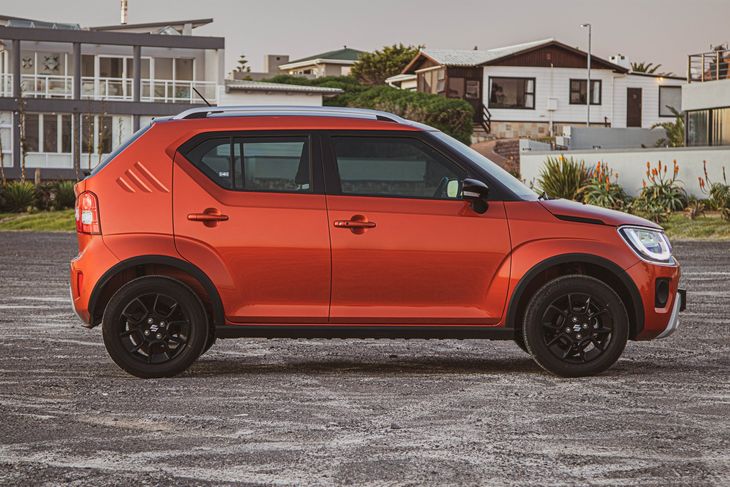 Despite its price going up, the Suzuki Ignis is a charming offering that is not only cute, but cheap to own and run.
The tastefully updated Suzuki Ignis continues right where its predecessor left off. Not only is it charming to look at and drive, but it's not going to cost you a fortune to own and run: the 1.2 GLX is remarkably light on fuel and comes with the enviable backing of vehicle brand that has won the #CarsAwards Brand of the Year title on 2 occasions!
Its cute looks will win it many fans and those who have the chance to take it for a test drive will be impressed by how energetic it feels to drive in an urban environment. The target market for this vehicle is typically younger buyers and the array of connectivity options availed by the advanced infotainment touchscreen is likely to impress them. If you're looking for an interesting first-time new-car purchase that won't break the bank and offers quite the "cool factor", the Ignis should be near the top of your shortlist.
Related content:
Updated Suzuki Ignis in SA (2020) Specs & Price
Suzuki Ignis 1.2 GLX (2017) Video Review