Toyota has rolled out a host of new Hilux derivatives in 2019... The Prospecton-based firm recently launched the limited-edition GR Sport, as well as a number of Legend 50 derivatives. We crossed multiple borders with the Legend 50 to find out what it adds to the legacy of the Hilux. Ernest Page reports from "somewhere in Southern Africa".
With record sales of over 4 700 units in June 2019, the Hilux continues to dominate new-vehicle sales charts. Even though some may argue that Ford's Ranger is an "as good or even better" product, the South African public's appetite for Hilux bakkies has been insatiable for the last 50 years. It's for that reason that Toyota has introduced the new Hilux Legend 50 which celebrates 5 decades of the Hilux in South Africa. It supersedes the familiar Raider range, but what's changed? We tour through 3 African countries in one day to find out if Hilux is still as proudly South African as ever.
Check out our celebration of 50 years of Hilux here.
Own a Toyota? Tell us about your experience here.
What is a legend?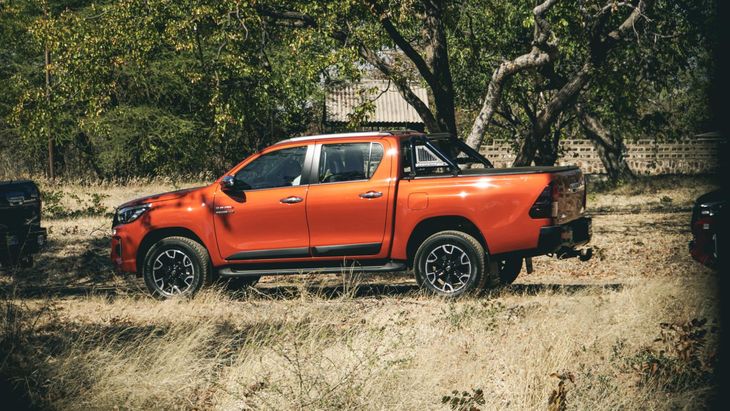 Legend 50 easy to spot from the side with the black trim pieces.
Legend. The word is often bandied about and, at times, I've had to bite my lip, because the ability to catch a set of house keys with one hand or the grace to hold a door open for a member of the fairer sex doesn't really make one a "legend", now does it? However, what if you've been consistently outperforming the competition for no fewer than 50 years? In my estimation, the venerable Hilux has done enough to deserve its legendary status in the South African motoring fraternity. Right now, it's the top-selling motor vehicle in South Africa and, for half a century, it has transported millions of people and supported multiple industries across the country. Toyota has nailed down the Hilux formula; it hasn't changed much since the first Hilux bakkie appeared on our streets in 1969. So it comes as no surprise that the changes made to Legend 50 are incremental, rather than sweeping.
What's new?
Although the winning formula remains largely unchanged, the Legend 50 package now replaces the Raider specification across all 3 body shapes (Single-, Xtra- and Double Cab) of the Hilux. Single- and extra-cab Legend 50 derivatives are powered by the 2.8-litre GD-6 turbodiesel engine that produces peak outputs of 130 kW and 420 Nm, although automatic versions produce an additional 30 Nm (450 Nm). The derivatives are available with either a 4x2 (Raised Body) or a 4x4 drivetrain and a choice of a 6-speed manual gearbox or a 6-speed automatic transmission.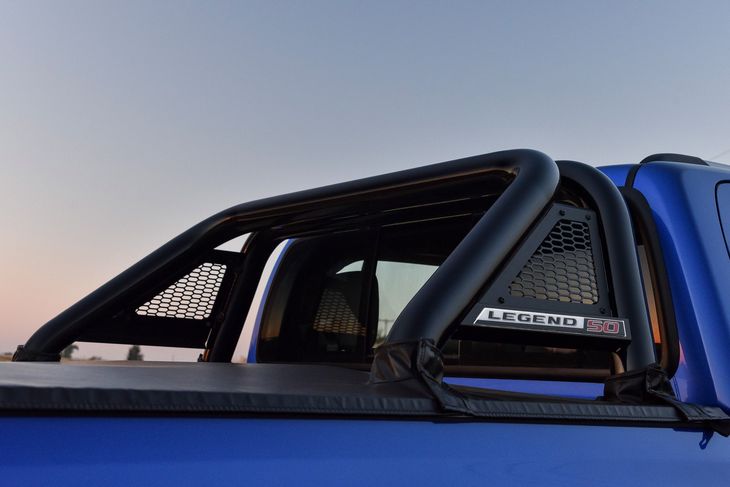 The newcomer is not short on special badging, is it?
Double Cab Legend 50 derivatives are available with either the aforementioned 2.8-litre GD-6 or 4.0-litre V6 petrol engines. While the latter is available exclusively in 4x4 automatic guise, the turbodiesel versions are available in either 4x2 or 4x4 configuration, in manual or automatic guise.
The driving experience remains pleasingly unchanged. During our journey, the Legend 50 traversed many miles of tarred roads and off-road terrain with typical Hilux ease and although I still prefer the torquier automatic, the manual version is robust and workmanlike in demanding conditions.
Exterior changes
In 2018, Toyota launched the Dakar Edition to provide a hint to what the new face of high-spec Hiluxes would look like. Unsurprisingly, the public loved it. Since that exercise paid off so handsomely, the new Legend 50 boasts a similar frontal treatment, but with some tweaks and changes.
The grille, which bears a Legend 50 badge, is blacked out, has a gloss finish, and is matched by the foglamp surrounds. C-shaped silver accents frame the foglamps vertically and complement the bumper guard. The LED headlamps incorporate daytime running lights (DRLs).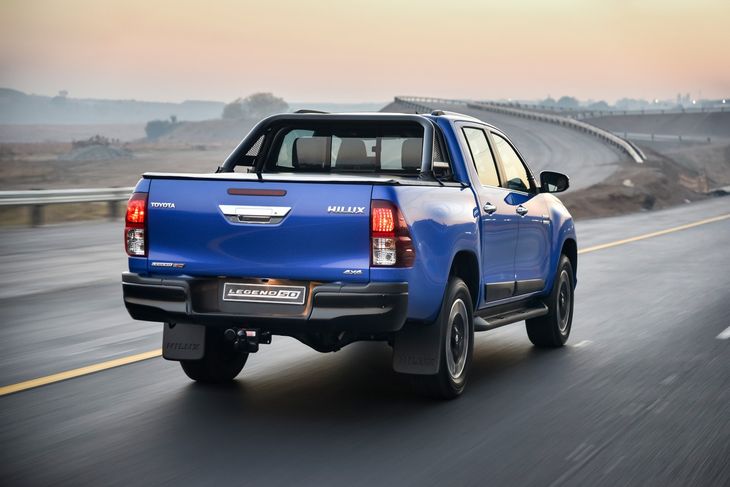 Is this the Wildtrak competitor that Toyota has needed?
Along the side, the extra- and double-cab Legend 50 derivatives sport black side-protection mouldings, chrome-finished side mirrors and door handles, as well as black side steps and silver roof rails. A customised rear styling bar with matching Legend 50 badging and a textured, heavy-duty tonneau are available as extra-cost items and we believe they'll be popular. As I mentioned before, the changes are incremental and, as far as a styling package goes, it works, bringing the Legend 50 up to date as to compete with the beefed-up looks of high-end Ranger and (Nissan) NP300s.
At the rear, a black bumper, smoked-look tail-lamp clusters and bespoke tailgate badging complete the Legend 50's visual package. A towbar is fitted as standard and derivative-specific two-tone 18-inch alloy wheels shod with 265-60-R18 all-terrain tyres are fitted. The wheels are quite large, but thanks to the generous 60-profile rubber (tyres with high sidewalls), the Legend 50 delivered a reasonably comfortable ride on rougher terrain.
Interior changes
Many small changes can be observed inside the Legend 50's interior, including black leather trim (on X/C and D/C) with blue stitching, a chrome accent strip across the dashboard and gloss-black panel trim. Legend 50 derivatives also have branded silver door scuff plates and carpet sets.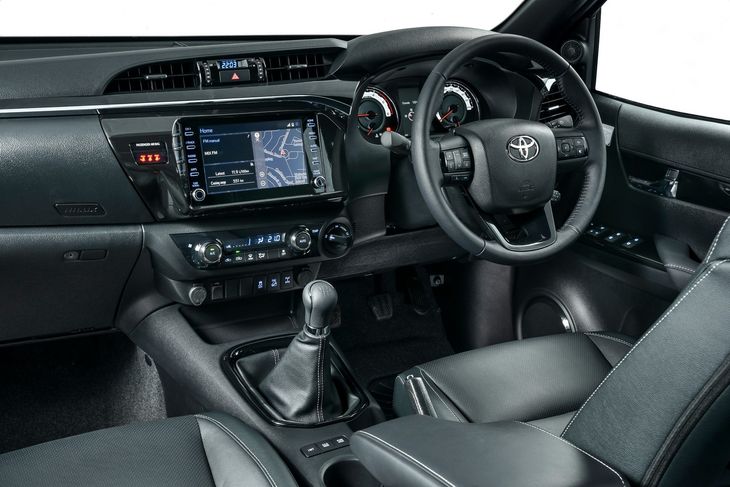 Look at those physical volume knobs! Thank you, Toyota.
Meanwhile, the instrument cluster features white-faced dials and a 4.2-inch TFT multi-information display. By operating the steering wheel controls, a driver can access a variety of information (including audio, compass, navigation prompts, trip info and fuel consumption detail).
The infotainment system has also been upgraded; it features an enlarged 8-inch (20.3cm) flush-mounted touchscreen display and, in what may have been a sop to consumers, Toyota has fitted a rotary volume dial in place of the much-maligned touchscreen volume control. This has been a personal bugbear for me in any car and I'm glad to see manufacturers taking note and switching back to the much more ergonomic knob-setup.
So, is it any better?

If you aren't one of the lucky few to get a Hilux GR Sport, this Legend 50 is the next best thing.
The Legend 50 needs to upstage eye-catching packages such as the (Ford Ranger) Wildtrak and (Nissan) Stealth in the looks department and, with this new, fresh look it certainly can. The newcomer retains that typical Hilux bulletproof feel though. In the city, the drive felt typically Hilux. Unladen, the ride was slightly too choppy over speedbumps and ruts, but on gravel and sweeping long roads, Legend 50 covered the miles with little effort.
Verdict
Monthly national new vehicle sales statistics (not to mention robust Hilux resale values) suggest that most consumers are more than happy with the existing Hilux package. Toyota – the 2018/19 Cars.co.za Consumer Awards Brand of the Year – would have to be silly to mess with a winning product, but thankfully it hasn't. In Legend 50 guise, the Hilux now looks even more handsome than in the outgoing Raider getup... Dare I say ask: could this be the best looking Hilux yet?. Expect to see 1 of these on the road, or in your, or your neighbour's, garage in the near future.
To see a full specifications article on the Legend 50 - click here
Pricing
Toyota Hilux Legend 50 Single Cab:
Toyota Hilux 2.8 GD-6 Raised Body Legend 50 6-speed manual R472 000
Toyota Hilux 2.8 GD-6 Raised Body Legend 50 6-speed automatic R491 100
Toyota Hilux 2.8 GD-6 4x4 Legend 50 6-speed manual R537 700
Toyota Hilux 2.8 GD-6 4x4 Legend 50 6-speed automatic R557 700
Toyota Hilux Legend 50 Xtra Cab:
Toyota Hilux 2.8 GD-6 Raised Body Legend 50 6-speed manual R511 100
Toyota Hilux 2.8 GD-6 Raised Body Legend 50 6-speed automatic R530 200
Toyota Hilux 2.8 GD-6 4x4 Legend 50 6-speed manual R578 800
Toyota Hilux 2.8 GD-6 4x4 Legend 50 6-speed automatic R598 200
Toyota Hilux Legend 50 Double Cab:
Toyota Hilux 2.8 GD-6 Raised Body Legend 50 6-speed manual R579 100
Toyota Hilux 2.8 GD-6 Raised Body Legend 50 6-speed automatic R598 500
Toyota Hilux 2.8 GD-6 4x4 Legend 50 6-speed manual R647 600
Toyota Hilux 2.8 GD-6 4x4 Legend 50 6-speed automatic R668 800
Toyota Hilux 4.0 V6 4x4 Legend 50 6-speed automatic R712 100