Cylinders replaced by cells.
Update: The electric Toyota Land Cruiser has gone into production, but there's a catch - it's not going on sale to the public. Earlier, we reported an Australian mining company was testing an electric Land Cruiser for its underground operations. Given that ventilation in an underground scenario is a tricky affair, emissions from vehicles compound the problem. The solution is electrification and now the demand will be met. Australian engineering firm GB Auto penned a deal with $250 million to convert and supply up to 2000 vehicles over a 4 to 7 year period. The Dutch company Tembo 4x4 will be supplying the electric hardware.
CarAdviceAu reports the electric Land Cruiser will cost $125 000 (about R1.4 million) and the vehicles will have a 72 kWh battery powering a 110 kW and 250 Nm electric motor. Given the size of the motor which is substantially smaller than the internal combustion motor it replaces, batteries are stored in the bonnet as well as in the space where the fuel tank used to be.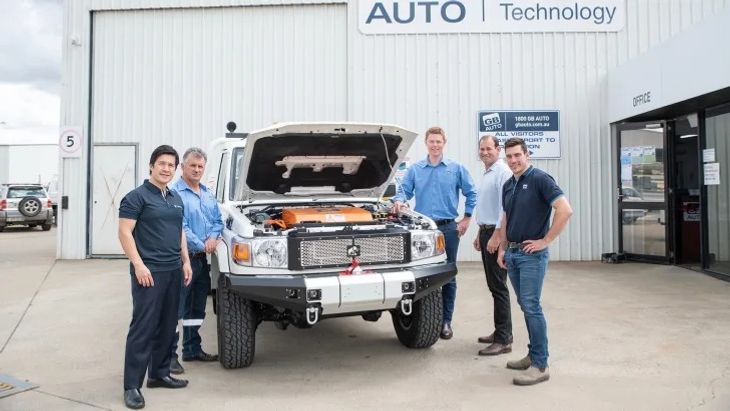 The world's least likely candidate for powertrain electrification has been revealed.
Unquestionably the hardiest of all bakkies, Toyota's Land Cruiser 70 single-cab, is undergoing a battery test cycle in Australia.
Although the Land Cruiser 70 is unavailable in most developed markets, these bakkies remain enormously popular in Australia, for many of the reasons they are such legends in the South African environment: durability.
Despite the current Land Cruiser design dating to 1984, the integrity of its engineering has allowed this bakkie to become essentially timeless. For hardcore mining, construction and agriculture applications, the Land Cruiser 70 remains unrivalled.
The idea of replacing its six- or eight-cylinder diesel engine options with a battery pack and electric motor, would appear very odd, but that is exactly what Toyota is prototyping.
Partnering with one of the world's biggest mining companies, BHP, Toyota's Australian engineers are attempting to retrofit an electric power- and drivetrain to the Land Cruiser 70 single-cab.
Although Toyota is not at liberty to reveal who it is sourcing the batteries from, or what their energy density is, the Land Cruiser 70 electric looks very capable.
One of the benefits of replacing its conventional engine options with a battery pack and electric motors will be a significantly reduced centre of gravity. This should give the bakkie better stability at cruising speeds, on gravel roads, and make it less intimidating to drive at extreme pitch and roll angles, off-road.
For BHP the primary objective is to reduce the fire risk at its mining operations. Although diesel fuel has a much lower flash risk than petrol, many of these bakkies do venture underground, into the mining infrastructure, where any fire is potentially catastrophic.
With a battery power source and electric power, the risk of fire is negligible.
One of the interesting modifications that can be seen on this Land Cruiser electric prototype, is the wraparound plastic bullbar. It appears to be moulded from a high-impact polymer and looks great, whilst also providing most of the protection that you would expect from a steel bullbar, at a much lower mass.
Related content
Lordstown Teases Electric Workhorse (w/video)
The Hummer is Back as a double-cab
562 kW Electric Rivian Bakkie Goes Desert Drifting [w/video]