When Hyundai Automotive SA launches its facelifted i30 N with an 8-speed dual-clutch transmission next year, the Korean firm's maiden hot hatch will offer considerably wider appeal in a market where buyers prefer automatics, such as the upcoming Volkswagen Golf 8 GTI and BMW 128ti. All three of them will be in Mzansi by mid-2021...
When the i30 N – Hyundai's 202 kW/353 Nm hot hatch and the poster child for the Korean firm's fledgeling N division – was launched internationally in mid-2017, it rocked the premium hot hatchback establishment, which has always been dominated by the Volkswagen Golf, Renault Megane RS (Renault Sport), Honda Civic Type R and, for a while, the Opel Astra OPC. However, South African performance aficionados had to wait patiently for the Korean hot hatch to make its local arrival... Hyundai Automotive SA eventually launched the i30 N, in limited numbers, in February 2020.
At the time, the Korean firm's local subsidiary was at pains to point out that it would sell only as many units as it could procure and that there was no guarantee that the exclusive hot hatch (still listed for R679 900) would remain available for the foreseeable future. Many believed the model would be a "halo car" marketing exercise much in the way that Kia Motors SA did with the limited-edition Stinger sports executive sedan.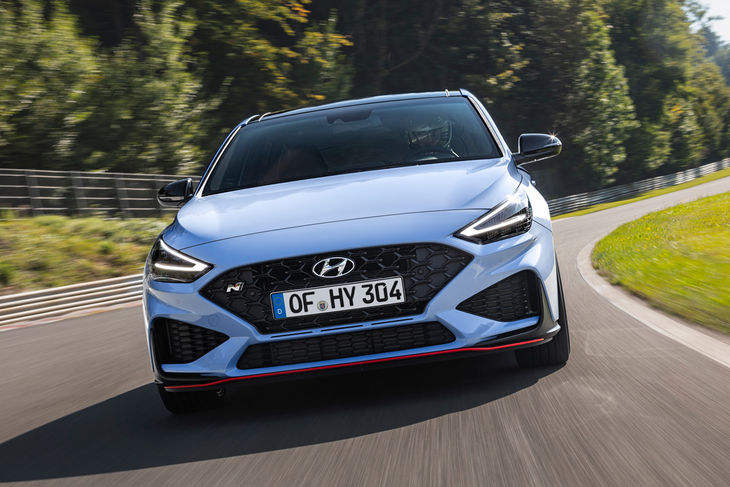 The revised i30 N can be distinguished by its V-shaped DRLs, as well as its revised grille and bumper.
However, the i30 recently underwent a facelift and so did its i30 N flagship, but fear not, the i30 N isn't going anywhere. In fact, Hyundai Automotive SA has confirmed that the updated version will be in local showrooms by mid-2021 and that it will include (or might even be limited to), the new 8-speed dual-clutch transmission (N DCT) version, which is bound to be more popular than the 6-speed manual derivative. Owners who recently bought an i30 N are unlikely to be too upset by the aesthetic updates incorporated in the facelift, because the cosmetic changes are quite subtle.
At the front, Hyundai has fitted new LED headlamps with V-shaped daytime running lights and the reshaped grille features sharper edges, a revised mesh pattern and loses the chrome surround. The bumper, meanwhile, has shapelier air intakes that incorporate air curtains for better airflow and reduced turbulence into the car's front wheel housings.
The N logo has also been integrated onto the wheel caps of new 19-inch forged alloy wheels with a dark satin grey matte finish (if the i30 N is outfitted with the Performance Package). By virtue of being 14.4 kg lighter (in total) than the current cast-alloy wheels, they reduce the vehicle's unsprung mass and are shod with high-performance Pirelli P-Zero tyres, which Hyundai says were developed especially for the i30 N.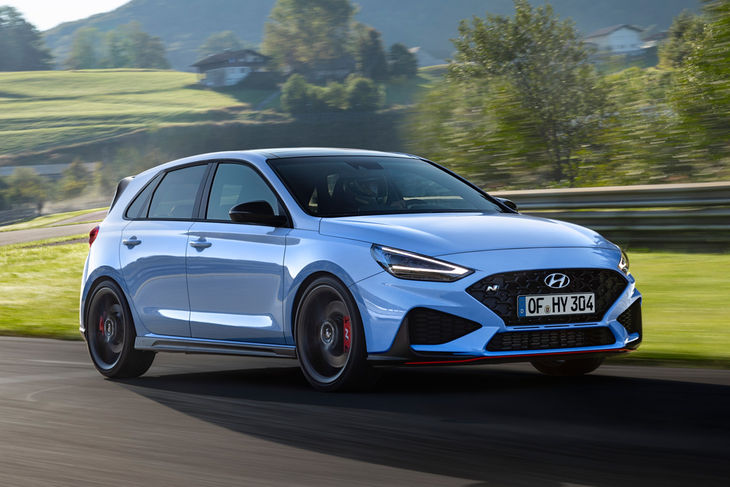 Although its power output has barely changed, the N DCT version of the i30 N offers an additional 39 Nm of torque.
At the rear, the large wing spoiler with the distinctive N triangular brake light remains, but the tail-light clusters feature a new LED signature, while the bumper features an enlarged black cladding with a more pronounced diffuser between the pair of large exhaust pipes.
Performance-wise, the i30 N now delivers a smidgeon of extra power (206 kW vs 202 kW), but notably more torque (39 Nm) to 392 Nm. For improved acceleration in the mid- and high-speed range, the Hyundai delivers its maximum twist (392 Nm) between in a wide band – 1 950 to 4 600 rpm), while it develops peak power at 5 200 rpm.
While the maximum speed of 250 kph is unchanged, the N-DCT version of i30 N is claimed to accelerate from 0 to 100 kph 0.2 sec faster than its predecessor (5.9 sec).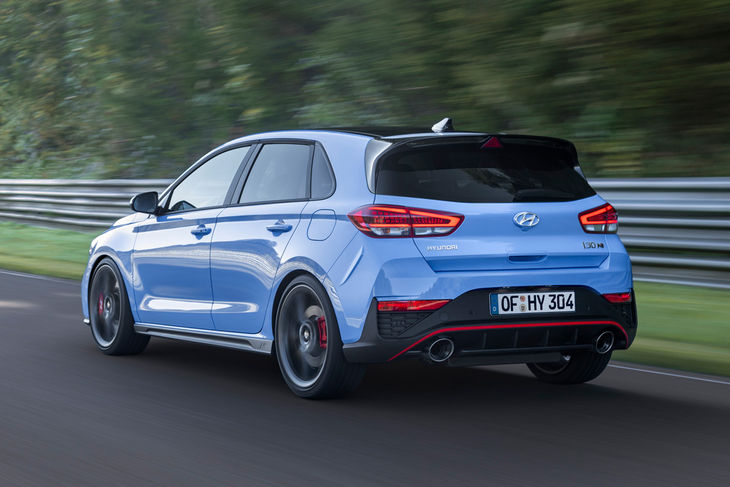 Note the much larger diffuser on the post-facelift car's rear bumper, replete with U-shaped red striping.
As before, the new i30 N is equipped with Rev Matching, Launch Control, a rear stiffness bar, electronically controlled suspension (although the damping and steering systems have been retuned for improved ride and handling performance, Hyundai claims.
The aforementioned Performance Package includes an electronically controlled limited-slip differential (eLSD, although it does feature on the current SA-spec car), as well as beefed up front brakes (of which the discs have been increased from 345 to 360 mm).
However, the introduction of the N DCT 8-speed dual-clutch transmission, of which manually actuated shifts can be actuated by using the paddle shifters mounted on the multifunction steering wheel or taps forward or pulls on the i30 N's transmission lever, is the biggest development.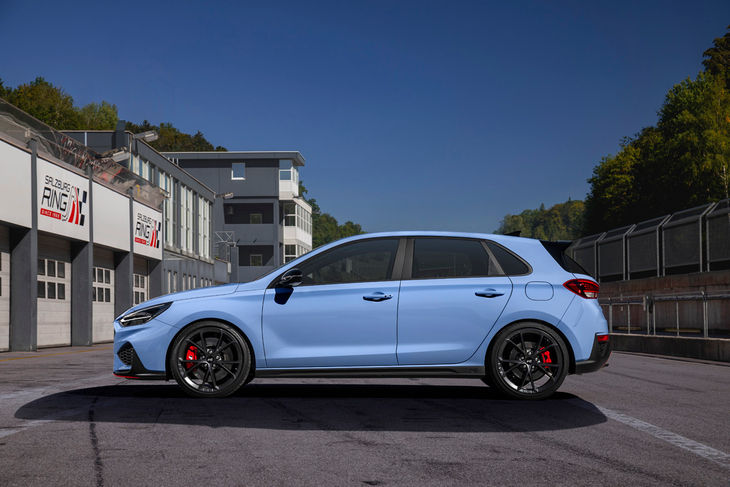 The new 19-inch five double-spoke forged alloys reduce the i30 N's unsprung weight.
The N DCT is a wet-type transmission, which means it uses oil to cool – and reduce friction on – the clutch components. Incidentally, that type of setup is widely believed to be more reliable, in the long run, than "dry-clutch" dual-clutch transmissions.
What's more, the N DCT 'box offers i30 N drivers a trio of new N performance modes:
N Grin Shift (NGS) is activated at the push of a button on the steering wheel, after which a countdown begins before the i30 N produces a 20-second burst of maximum power.
N Power Shift (NPS) engages when the car accelerates with more than 90% of throttle, thereby mitigating any reduction in torque by using upshifts to deliver maximum power.
Finally, N Track Sense Shift (NTS) automatically engages a sportier shift pattern for the transmission (by selecting the right gear and shift timing for optimal performance).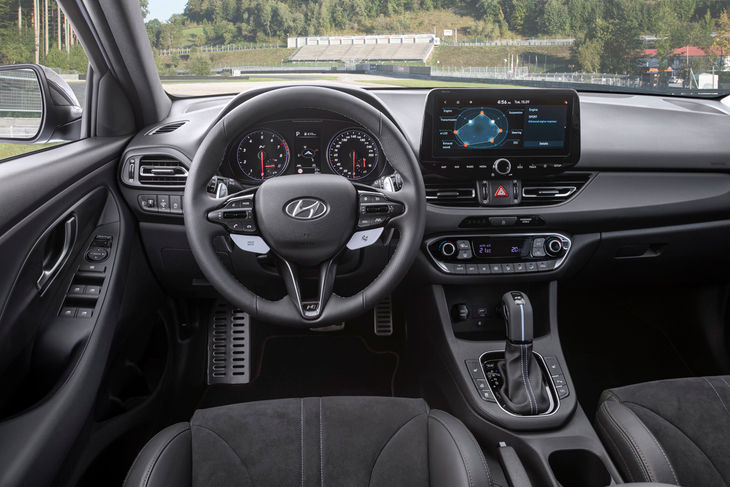 To appease track-day enthusiasts, the i30 N's Performance Driving Data System features updated graphics.
N 'Grin Control'
As with the previous generation i30 N, the drive-mode selection system (which Hyundai calls the N Grin Control), incorporates Eco, Normal, Sport, N and N Custom pre-sets that adjust the parameters of the engine, the suspension, electronic stability control, eLSD, exhaust sound, steering, and transmission for a variety of driving conditions. In the N Custom mode, drivers can select from Eco, Normal, Sport and Sport+ settings for each of these components to match driving preferences and road conditions.
As much as the i30 N has been praised since its launch in the local market, its interior execution has erred on the side of conservatism (at least by hot-hatch standards). That still applies, but to a lesser extent… The Hyundai's seats are trimmed in black artificial suede and leather with Performance Blue contrast stitching and the instrument cluster includes an active variable LED red zone and shift indicator, but apart from the sporty, metal pedals, the revised hot hatch features seatbelts with Performance Blue accents.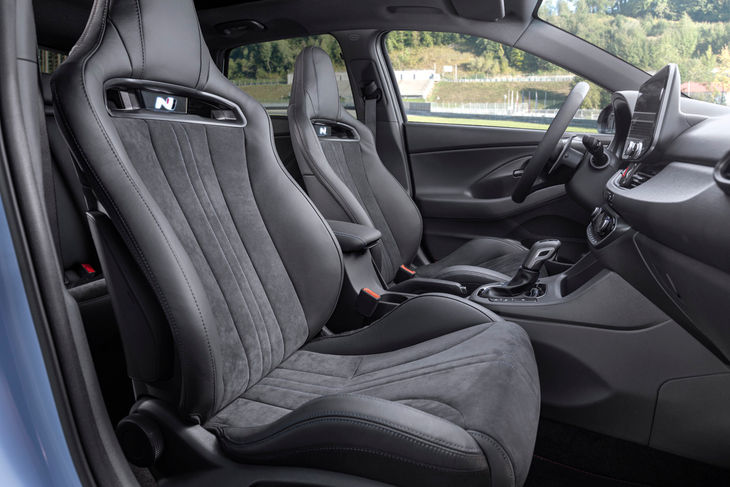 As if the N Division hasn't take a leaf out of the M Division's books already... the N Light Seats feature illuminated plates.
Hyundai now offers optional lightweight monoform front sport seats on the i30 N that offer pronounced side and lumbar bolstering and are 2.2-kg lighter than the standard items. The N Light Seats are trimmed in premium leather and Alcantara and features Performance Blue stitching as well as an illuminated N logo on an integrated headrest
Meanwhile, the newcomer comes with a 10.25-inch touchscreen infotainment system with navigation, plus Apple CarPlay and Android Auto compatibility. It incorporates the Performance Driving Data System (with updated graphics), which saves and displays driving data (including power, torque, boost) and includes a lap and acceleration timer.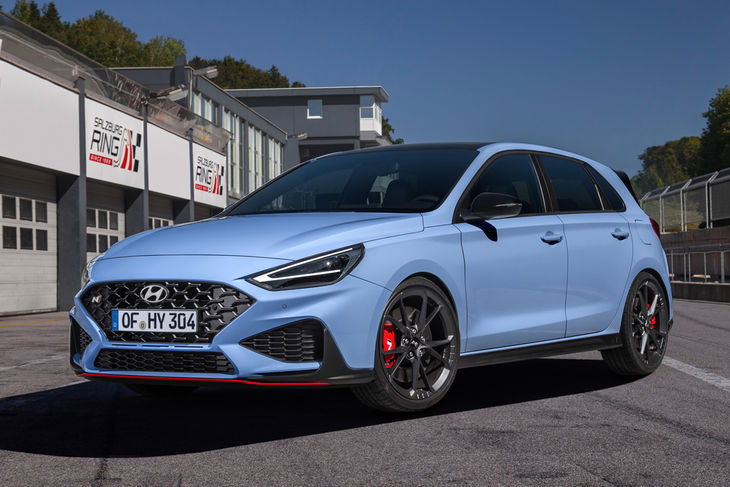 It remains to be seen whether the facelifted i30 N with N DCT will come to South Africa, but we wouldn't bet against it.
The new i30 N has been upgraded to include more Hyundai SmartSense active safety and driver assistance features, including Forward Collision-Avoidance Assist with pedestrian detection, Lane Following Assist, Blind-Spot Collision-Avoidance Assist, as well as Rear Cross-Traffic Collision-Avoidance Assist. These additional systems may not be of much – if any – consequence to our market, however. Local versions of the i30 N are equipped with ABS, stability control and front-, driver knee-, side- and curtain airbags.
A showdown's looming
The i30 N DCT will certainly have its work cut out when it arrives on local soil. BMW aficionados are eagerly anticipating the arrival of the 128ti – a new mid-range derivative of the 1 Series, which is fitted with a limited-slip diff, M Sport suspension and a 180-kW 2.0-litre turbopetrol motor.
The 128ti, which is scheduled to arrive during the 1st quarter of next year, is claimed to bolt from 0 to 100 kph in 6.3 sec and marks BMW's first serious stab at the traditional front-wheel-drive hot hatchback market. Although Mzansi won't get the full-fat 195 kW/400 Nm version as offered in Europe, the newcomer's outputs are almost identical to that of the Golf 8 GTI. See also: BMW 128ti: How it compares with GTI & i30 N
Although news about the Volkswagen Golf 8 has been dominated by the recent release of the R model, the next iteration of the Wolfsburg-based's brand's iconic hot hatch is scheduled to arrive a little later than the Bimmer (around the 2nd quarter of 2021). Although the GTI offers slightly less power (26 kW) and torque (22 Nm) than the i30 N DCT, our international correspondent Dave Humphreys reports that the newcomer's handling balance and overall dynamism is arguably better than its ever been: Volkswagen Golf 8 GTI (2020) International Launch Review
We can't wait to line the Hyundai, BMW and VW up for comparison. Here's a breakdown of what the market's headlining hot hatches produce:
* Note: We've left out the A35 AMG 4Matic, Audi S3 and Golf 8 R because they're all-wheel-drive cars.
Related content
Drag Race! Honda Civic Type R vs Hyundai i30 N
Drag Race: VW Golf GTI TCR vs Hyundai i30 N
Volkswagen Golf 8 GTI (2020) International Launch Review
BMW readies its GTI-rival – the 128ti
Renault Megane RS 300 Trophy (2020) Review
Hyundai unveils facelifted Kona & N-Line derivative