With social distancing being the order of the day throughout the recent festive season, Cars.co.za journalist Gero Lilleike decided to venture out of Cape Town and into the great outdoors to undertake the ultimate camping road trip with the updated Volkswagen Caravelle. Take a look at how the T6.1 performed!
We Like: Engine performance, comfortable ride and handling, practicality
We Don't Like: Spare wheel is not easy to inspect/change, some marginal interior materials
Fast Facts
Model Tested: Volkswagen Caravelle Highline 4Motion
Price: R1 166 600 (Januray 2021)
Engine: 2.0-litre turbodiesel
Power/Torque: 146 kW / 450 Nm
Transmission: 7-speed automatic
Fuel Consumption: 7.4 L/100km (claimed)
Fuel tank capacity: 80 litres (Range: 909 km)
Serious About Buying?
Check out full specification details and finance estimates here
Some Volkswagen dealers regularly offer specials: Look at New Car Specials here!
What is it?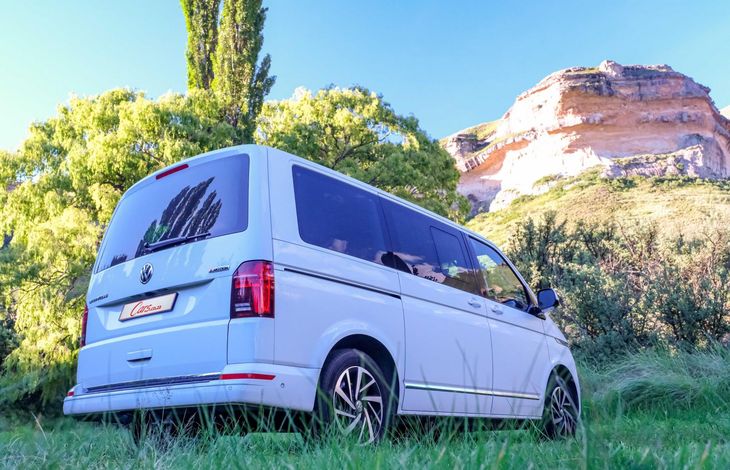 With the latest updates, the Caravelle is now a more sophisticated product.
If you don't already know this, the Caravelle sits above the Kombi in Volkswagen's range of people-movers and the updated T6.1 Caravelle will finally reach local showrooms this month replete with enhanced styling and a modernised interior. In fact, the revised cabin is equipped with the latest infotainment and connectivity features on offer from the Wolfsburg-based marque.
The latest updates have pushed the Caravelle further upmarket, where it squares off against the similarly-priced Mercedes-Benz V-Class. We briefly sampled the latest Caravelle at its official launch last year, but more recently we were afforded the opportunity to live with the luxury minibus during the festive season.
Camping is perhaps the best way to achieve social distancing while still being able to travel and explore the country safely; Cars.co.za journalist and resident outdoorsman Gero Lilleike decided to take social distancing to the next level and embark on a 4 000-km camping road trip that would not only expose the Caravelle's long-distance driving ability, but also test its practicality.
How does it fare in terms of…
Practicality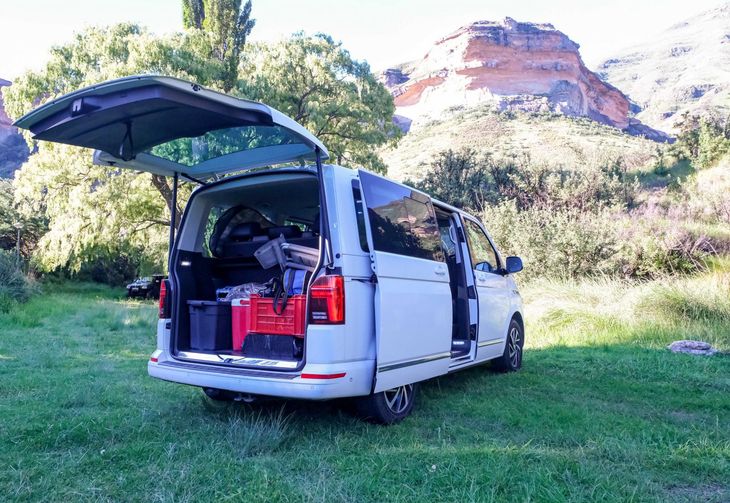 The Caravelle has lots of space for luggage and camping gear.
Buyers of large family cars appreciate (load- and people-carrying) flexibility above most other aspects of their vehicles and in that regard, the Caravelle certainly excels. Volkswagen's contender can seat up to 7 passengers in comfort – and even offers separate ventilation outlets for the rear occupants, I might add, but its talents comfortably extend beyond that...
Whether you are part of a big family, small family or, like me, one half of a childless couple, the adaptability of the Caravelle means that you have a practical solution for just about any situation. Due to the fact that the seats are fixed on a rail system, the rear bench and middle seats can slide fore or aft to either create a larger load bay or to improve legroom. Moreover, the rear seatback can be folded down to create a flat surface that can be used to load longer items – or even serve as a bed for the kids at your favourite camping spot. The middle row features 2 individual seats that can swivel while a central foldable table with storage space is particularly useful. The middle seats can be adjusted to face forward or you can opt for a meeting-style setup where they face rearwards.
We had lots of luggage and camping equipment to haul to our destination, which meant that only the 2 middle seats were free to use during our trip as we used the rear bench as extra storage for bags and equipment. The foldable table served as a mobile work station and with multiple 12V sockets available, we were able to use the Caravelle as a charging station for laptops, cellphones and camera equipment by using an inverter, which is a must-have piece of equipment on any camping trip, unless, of course, you are Bear Grylls.
I even managed to pack a surfboard, which I slotted in down the side of the interior and it never got in the way; it's a testament to the sheer amount of space available in the Caravelle!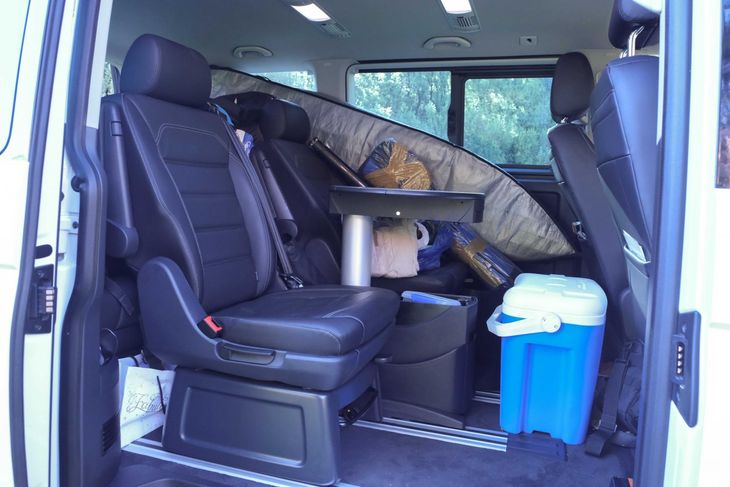 We were surprised at how much luggage and gear the Caravelle could load... note the surfboard...
Furthermore, ingress to the Caravelle's cabin is via a pair of electrically-powered sliding doors – we particularly like that they can be opened, paused and closed with a one-touch pull of the handle.
The extra storage compartments (located under the rear bench) are also nifty. There are 3 separate compartments and they are surprisingly spacious and useful to store small and medium-sized items out of sight, which means you can organise your packing more effectively. However, the plastic covers are made of plastic of marginal quality and they feel less-than-hardwearing as a consequence. It's also worth noting that the rear tailgate opens upwards, which means that you won't be able to access the load bay if you are parked tail-first in close proximity to a wall or another vehicle.
We also experienced a flat tyre on our journey and we quickly discovered that releasing and installing the spare wheel (which is placed underneath the vehicle) is a fussy process that requires at least 2 people to carry out; not only is the spare' heavy, but its location makes the task of liberating it from its well quite awkward. That's the worst of our criticisms as for as practicality is concerned, however.
Performance and economy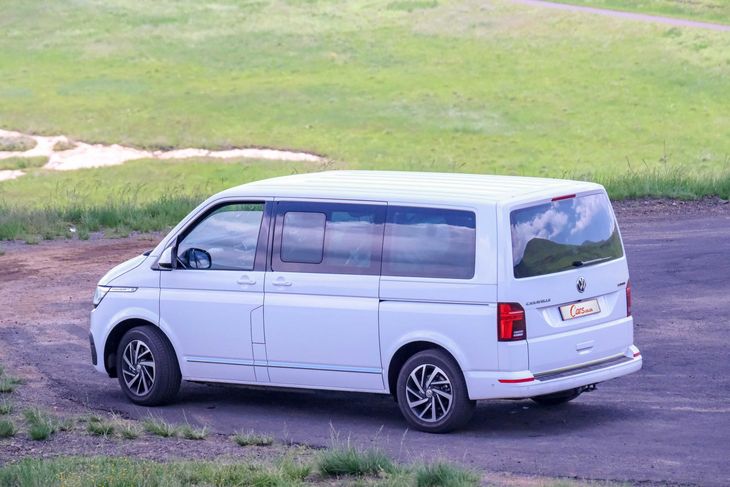 The Caravelle is worth its salt over long distances; it offers enough power and comfort to ensure a pleasant driving experience.
Apart from offering considerable practicality as a family vehicle, the Caravelle's on-road performance is refreshingly spirited. With its 2.0-litre bi-turbodiesel engine producing 146 kW and 450 Nm of torque and paired exclusively with a 7-speed automatic transmission, the powertrain provides ample shove to shuffle along the T6.1 with a fair turn of speed.
Under hard acceleration, a brief moment of lag is experienced as the turbos spool up, but when they come on song, the Caravelle pulls forward with purpose and the um, bus, is particularly adept at executing overtaking manoeuvres quickly and effortlessly on the highway. The transmission, in turn, shifts smoothly and unobtrusively, which contributes appreciably to the overall driving comfort.
We found the engine wonderfully refined – it's not a clunky or noisy diesel motor. What's more, the cabin is so well insulated from mechanical noise that the T6.1 tends to warp your perception of speed; it's much faster than what the driver perceives. With that said, the cruise control (accessed via the multifunction steering wheel) is a good way to ensure that you remain within speed limits.
In terms of fuel-efficiency, Volkswagen's official claim is 7.2 L/100 km, but that's ambitious. During our trip, the onboard computer displayed figures between 9.7 and 10 L/100 km, which was fair.
Ride and handling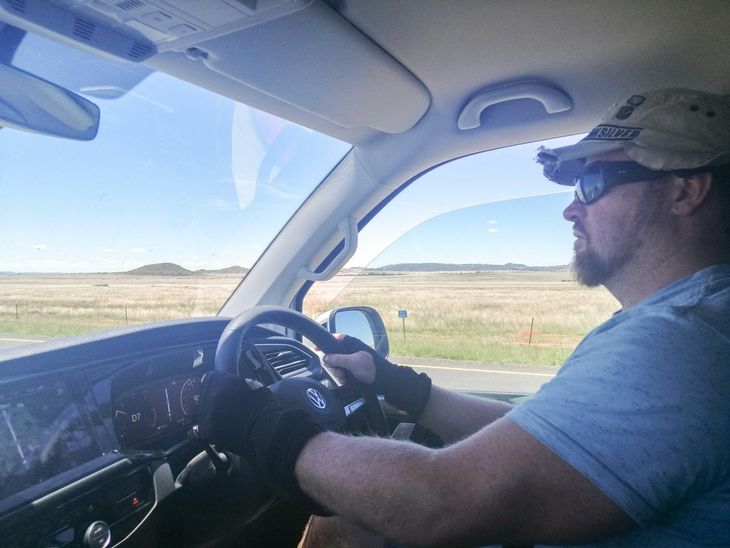 The Caravelle delivers a comfortable ride quality, but body roll is noticeable while cornering.
The Volkswagen's ride quality is generally good – on most tar surfaces – courtesy of a supple suspension that manages to absorb imperfections with aplomb. It also fares well on gravel, but, by virtue of the lower-profile rubber fitted to its wheels, the Caravelle is more suited to traversing sealed roads. Volkswagen's 4Motion all-wheel-drive adds further confidence, especially in wet conditions.
The Caravelle's steering, meanwhile, is lightly weighted and fairly responsive to inputs. Handling-wise, the T6.1 is sufficiently wieldy for a vehicle that's based on the Transporter commercial-vehicle platform (even though Volkswagen hides it rather well), but due to its bulk, it loses some of its composure under cornering. The Volkswagen stands some 1 990-mm tall and has a kerb weight of 2 357 kg, which translates to a fair amount of lean and body roll under cornering, but this effect can, of course, be countered by brushing off some speed and making more measured steering inputs.
Interior and features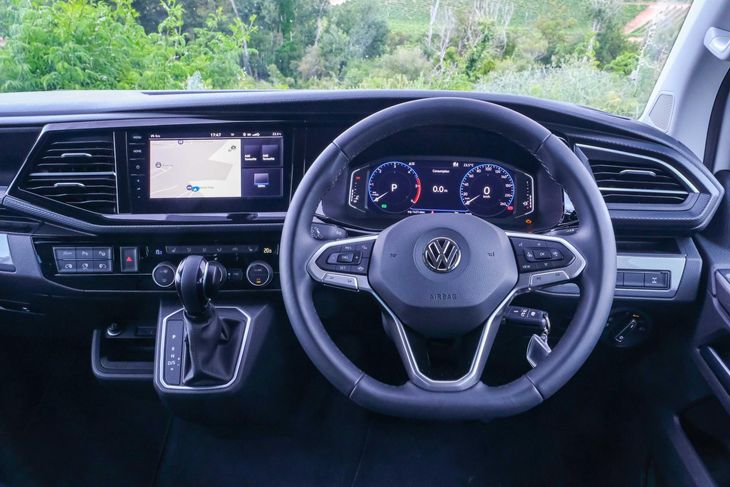 The Caravelle comes well equipped with standard features.
The Caravelle's cabin boasts good perceived build quality; its overall design is unspectacular, but still pleasing to the eye and the general layout is ergonomically sound. Volkswagen's Discover Pro Media infotainment system is standard and features integrated navigation, which is useful. The menu layout is intuitive and easy to use and, in combination with the 10.25-inch configurable digital instrument cluster, the Caravelle exudes a notably premium look and feel. There's even a wireless charging dock for your smartphone, but this is an optional feature.
It must be said, however, that the infotainment screen does attract a considerable amount of dust and fingerprints and it's advisable to keep a soft cloth at hand to wipe the panel clean. It's also worth mentioning that the infotainment system shut down and rebooted without warning on at least 4 occasions during its tenure in our test fleet; we hope that it was an issue with this particular unit.
The interior materials in the cabin are mostly of the utilitarian variety and while this bodes well for a long service life, we do think that Volkswagen could have added some more soft-touch areas and higher-quality materials in certain areas to further boost the premium look and feel of the interior. Nonetheless, the Caravelle's cabin is a comfortable space to occupy during a long road trip!
There's also an impressive list of useful active safety features offered on the Caravelle including crosswind assist, trailer assist, rear traffic alert, manoeuvre braking function, lane assist, hill start assist, hill descent assist and park assist, the latter of which is useful to manoeuvre the large Caravelle into parking spaces. The T6.1 is fitted with 6 airbags and a reverse-view camera with static guidelines.
Price and warranty
The Volkswagen 2.0 BiTDI Highline 4Motion is priced from R1 166 600 and is sold with a 3-year/120 000 km warranty and a 5-year/60 000 km service plan.
Buy a new or used Volkswagen Caravelle on Cars.co.za
Verdict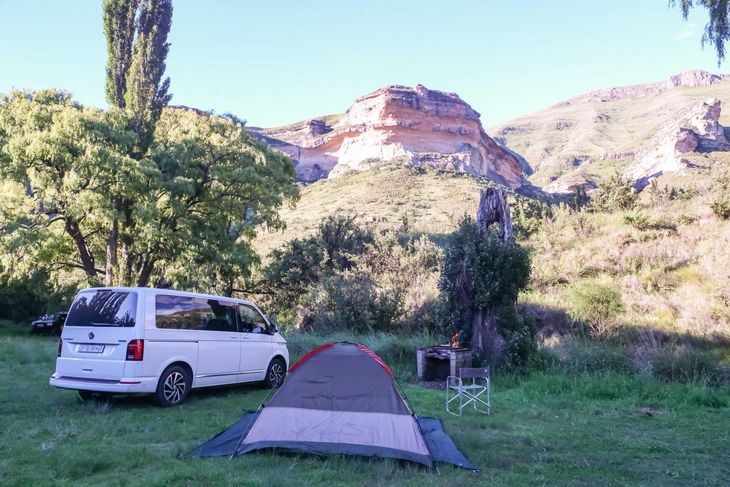 The Caravelle proved itself on this test and we think it's worth a closer look in this segment.
The latest Caravelle's long-distance performance is mightily impressive – not only was the T6.1 pleasant to drive, but it proved to be hugely practical, arguably more so than a conventional SUV. In addition, the Volkswagen's enhanced on-board technology and upgraded interior were not only timely improvements – they have bolstered the purchasing proposition of the model.
Since the launch of the Caravelle T6.1 in October 2020, its 7-figure price tag (R1 166 600) has been widely criticised, which is a trifle unfair if you consider that the asking price for the Volkswagen's primary rival, the Mercedes-Benz V250d, starts at R1 099 606 – and the vehicles offer similar outputs and features. It must also be noted that the Caravelle offers slightly more in the way of nice-to-have standard features, such as heated front seats, integrated navigation and a standard reverse-view camera, to name a few, which means it represents better value for money than its rival from Stuttgart.
Sadly, however, premium brand snobs will likely place badge perception above overall value. Remember the Volkswagen Arteon? It was an award-winning product, but it sold poorly in Mzansi because buyers don't perceive Volkswagen as a premium brand that can compete against the likes of BMW, Benz and Audi. If the badge on the nose means little to you, then the Caravelle deserves your attention. It's also worth mentioning that the outgoing Kia Grand Sedona, which will be replaced by the new, renamed-to-Carnival model this year, offers exceptional value under the R1-million mark.
This Caravelle T6.1 is more competitive than ever and definitely worth considering if you are in the market for a practical family vehicle and feel less than inclined to be swept up by the SUV craze...
Related content:
Spy Shots: 2021 Volkswagen Polo (Updated)
2020/21 Cars.co.za Consumer Awards - Powered by WesBank; Finalists