How industry tax savings from the government could help you buy the same car, for less money, in the near future.
Many years ago, before Uber or Instagram existed, a prominent South African car company boss was badly misquoted. It's a quote that has taken on even greater meaning with the passage of time...
Months before the global financial crisis of 2008, when the South African economy was on a tear, analysts started talking of the mythical "million- car" market. The idea that local buyers would demand a million new vehicles a year. Of course, that never happened.
The best year on record was 2006, which ended at a total of 714 135. With all the disruption and economic malaise that 2020 has visited upon us, the local industry might only achieve half of that record number by the time this wretched year ends.
South African new-vehicle sales are expected to trend down between 25- to 30% year-on-year. We are not an isolated tragedy. The global pandemic has decimated all planning and demand projections for 2020, but it's telling that our local market has regressed dramatically since 2006.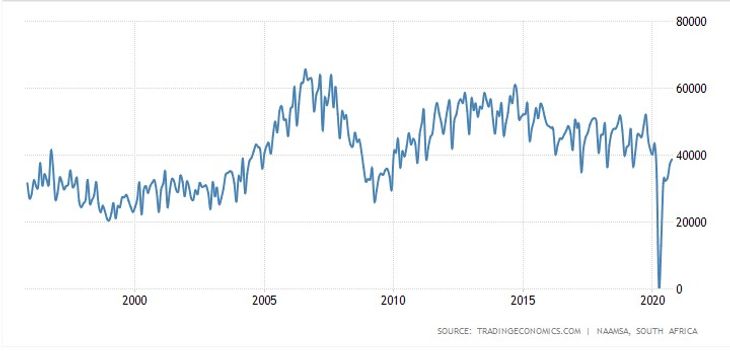 Monthly sales data over the last 25 years shows SA's vehicle sales decline over the last 5 years.
As the demand for new vehicles has waned, the market offering has, paradoxically, grown in diversity. Hmm, more choices... but fewer customers. Although the last 5 years have seen some notable brands depart (Chevrolet and Daihatsu), South Africans are still offered a dazzling array of models and derivatives. But how are all the brands managing to survive in a market that has halved in the last 15 or so years?
The truth is, they aren't. Losses are being absorbed with the hope of a turnaround and the situation has become so challenging, that the local industry's representative body (Naamsa) is now lobbying government for support – and it's something that could soon trigger price reductions.
South Africa's automotive industry is virtually the country's only manufacturing success story. It has geographically dispersed assets (Gauteng, Kwa-Zulu Natal and the Eastern Cape) and supports a deep value supply chain. Local engineers and technicians build sophisticated vehicles for some of the world's most fastidious markets, a sign of approval for local ingenuity, quality and technical discipline.
Limiting government influence – on what you pay for a new car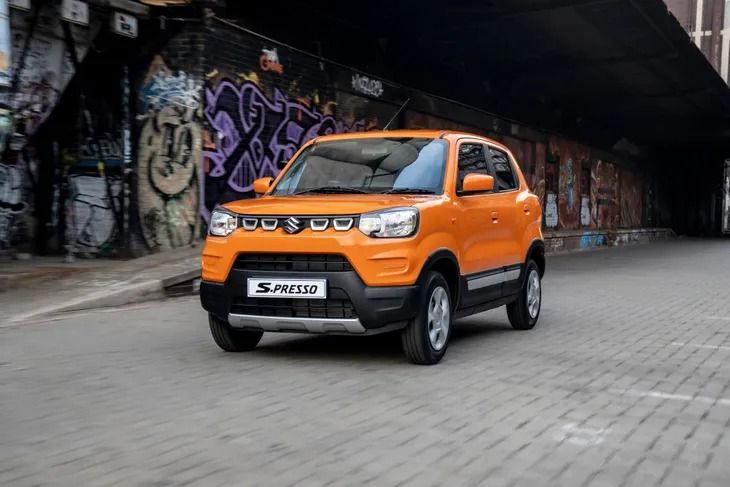 At R145 900 (Nov 2020), the Suzuki S-Presso is one of the cheapest cars on sale. It would be R137 146 with a 6% tax cut.
Vehicle exports remain healthy, but the domestic market is terribly weak. In an attempt to reduce prices, thereby stimulating demand, Naamsa is imploring the government to forego some of its vehicle tax revenue. The idea is simple: whatever government is willing to sacrifice in terms of its tax burden on the automotive industry, will result in discounted pricing for the consumer.
As part of a complicated trade and industrialisation strategy, our government levies a peculiar burden on new car sales, under the ad valorem policy. Ad valorem sounds like a special-edition paint colour, doesn't it? In fact, it is the technical jargon describing a luxury-goods tax applied to vehicles, and an issue Naamsa would like the government to address urgently.
The proposal is to reduce the new vehicle sales tax from 42% to a compromised figure of between 35- and 38%. For all vehicles, from the cheapest Suzuki S-Presso to AMG's most outrageous Geländewagen, the savings will be marginal, but welcome nonetheless. Especially for those shopping in the sub-R200 000 segment, where any saving is often the difference between being able to purchase, or having to continue saving.
Sceptical consumers might rightfully ask: "Okay, so if the government could indeed be convinced to provide transactional taxation relief, will South Africa's automotive industry be transparent in the way it recalculates new-vehicle prices?"
Some brands are in a much stronger financial position than others. Especially those who manufacture locally, earning valuable export credits. If the state relaxes its new vehicle tax regime, would a struggling low-volume imported brand not simply pocket the savings to bolster its cash position?
Toyota SA is by far the most influential local automotive brand and we asked the firm's Vice President of Marketing, Glenn Crompton, to clarify the company's position: "In essence, the request was made with the intention of making vehicles more affordable and it would certainly be Toyota's position to pass that reduction on to customers. You may find different strategies on how to pass on the benefit, for example adding more value."
Also read: Toyota Hilux (2020) Review
The result could be either a reduction in purchasing price or improved equipment levels for the same price. But wouldn't that annoy customers who recently paid the full ad valorem new vehicle purchase price?
Crompton believes that the "broader South African car buyer" understands the issues at hand. "It is likely that a reduction in the price could potentially frustrate some customers, but it is not a guarantee it would have an impact on resale values. I would, however, expect that on balance customers would appreciate any effort to make vehicles more affordable," he adds.
CO2 is a dirty tax without better fuel options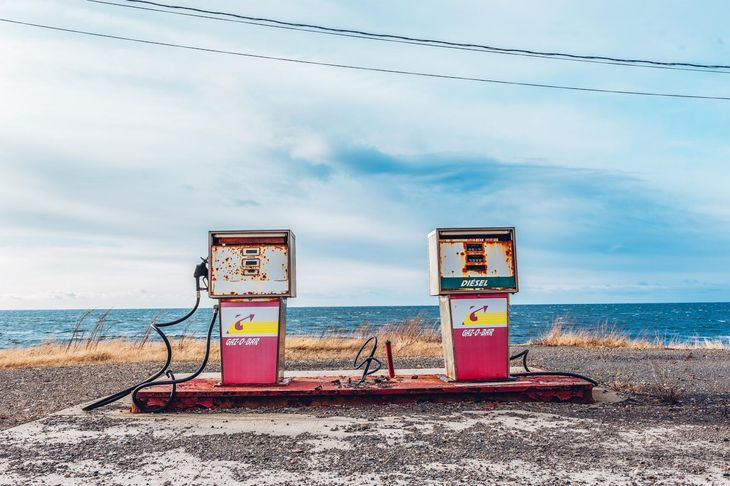 Poor quality fuel remains a problem in SA and often excludes certain modern engines from being sold locally.
If Naamsa does successfully trigger some sympathy for its position with national treasury, and a tax reduction is swiftly enacted, is that the only tool to influence pricing? No. The stealthy CO2 tax certainly warrants a revaluation as well.
In a country where all car brands are held to ransom by poor fuel quality due to the government's frankly glacial pace of regulatory adherence, the CO2 tax is a bugbear. Without providing a fuel-quality incentive to allow the deployment of superior engine technology, government's CO2 tax is environmentally pointless and simply a way of punishing customers who can't choose a cleaner alternative anyway.
In smaller vehicles, CO2 tax can meaningfully affect price, as a few thousand Rand is often the difference between a deal or the deferment of a purchase. There is a substantive argument that government has no justification for the CO2 tax on private vehicle sales, as it has done nothing to enable customers to choose from the best possible global engines that emit the lowest CO2 emissions.
Beyond lower transactional and CO2 taxes, there is a 3rd factor that could reduce new vehicle prices in South Africa. And it is beyond the control of Naamsa, or even the national government.
The Rand has become your new car pricing hero


The currency is trading back at levels last seen pre lockdown.
At the peak of South Africa's lockdown, our currency was trading beyond R19 per USD. With Democratic Party nominee Joseph Biden having prevailed in the US Presidential election, that position has strengthened appreciably, to below R16 per USD. And it is great news for car prices.
As the world's reserve currency, a lot of international car purchasing is done in Dollars. South Africa's imported vehicle carpark, especially below R300 000, is increasingly sourced from India, but the purchasing certainly isn't done in Rupees.
Many of Hyundai, Honda, Kia and Suzuki's most popular local models are now made in India and some of those cars are bought by local distributors, in Dollars.
Recent Rand strength could support the most logical and significant price reductions for popular value models, that are fully imported. Although a broader industry reaction, if government relaxes its luxury and CO2 tax regime, would leverage the rate of discount, in a very welcome manner.
Related content
Gazoo Toyota Cruiser could be happening
5 Cheapest New Cars in South Africa 2020