The torrent of special-edition bakkie introductions shows no signs of abating. Only 535 units of the Toyota Hilux GR Sport will be sold in South Africa; we drove the newcomer in Botswana and Zimbabwe to see what it has to offer.
Last year, Toyota made quite a marketing splash by demo-ing its "not for sale in ZA" Yaris GRMN. But there's more to Gazoo Racing than Dakar victories and low-volume hot hatches. Gazoo Racing offers 4 tiers of product tuning, ranging from sticker kits to bespoke race-bred track specials. Ford recently launched its off-road-racer inspired Raptor and Isuzu rolled out its almost comically oversized D-Max Arctic 35 AT soon thereafter. So, is the Hilux GR Sport also aimed at hardcore off-roading enthusiasts? We drove the limited-edition bakkie across Southern Africa to find out.
Check out our launch review of the Hilux Legend 50 here.
Own a Toyota? Tell us about your experience here.
What's new?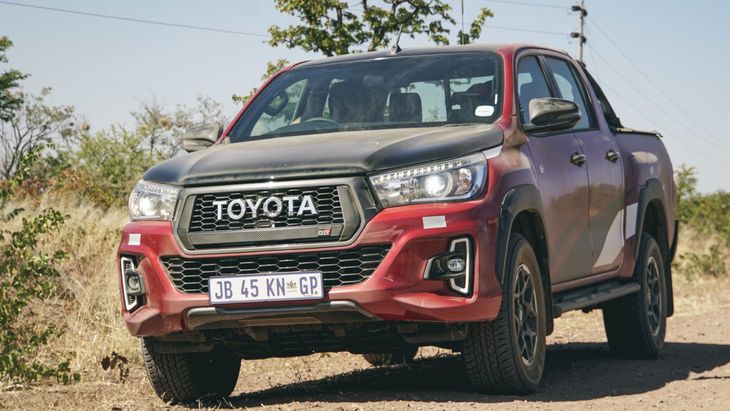 That black bonnet and roof make the Hilux GR Sport instantly recognisable.
The Hilux GR Sport is the first Gazoo Racing (GR) product to be made available in South Africa through Toyota's dealer network. Considering how popular the Hilux is, the newcomer represents a smart way to test the marketability of the GR sub-brand. Although 600 units of this eagerly anticipated and head-turning bakkie will be produced, only 535 examples have been allocated to South African dealers (the rest of them will be exported), so if you're keen on buying one, you better act fast – Toyota has already confirmed that no more Hilux GR Sport units will be built.
The Hilux GR Sport sits the 2nd tier of the GR-product pyramid, which means that this Hilux doesn't just come to market festooned with a few extra stickers and endowed with an evocative moniker. Indeed, the newcomer features some notable under-the-skin changes too.
Suspension and wheel upgrades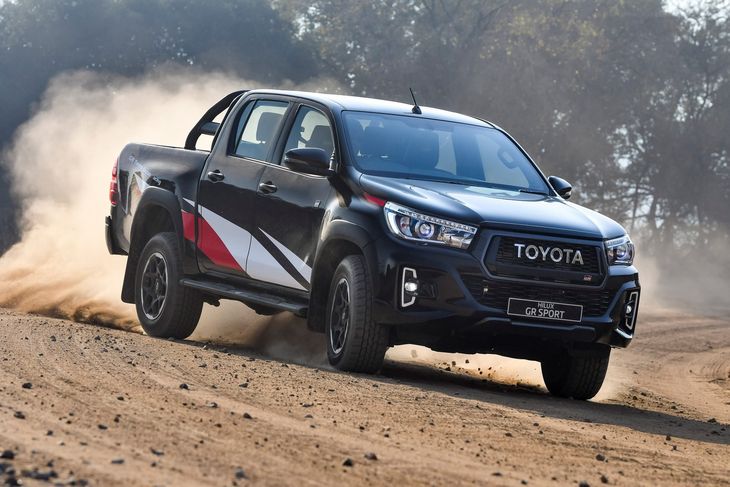 A sportier suspension setup at the front but no power upgrades.
For a start, the GR Sport features an entirely new front suspension setup, which consists of a monotube design and revised dampers. The bakkie's front spring rates have been revised to facilitate a sportier ride, but the rear suspension setup remains unchanged so as to maintain the Hilux's current load-bay standards (layout and carrying capacity). The wheel size is 1-inch smaller than standard (the black alloys are shod with 265/65/17 rubber), but the tyres have a slightly higher profile than those of the standard bakkie, ostensibly to restore a bit of post-suspension-update comfort.
So, what's it like to drive?
On the road, the bakkie feels pointy and more responsive, but the stiffer suspension is a double-edged sword, especially when you drive the GR Sport round town: speed bumps and road imperfections are more noticeable, but at least the bakkie's high-speed stability seems to have improved.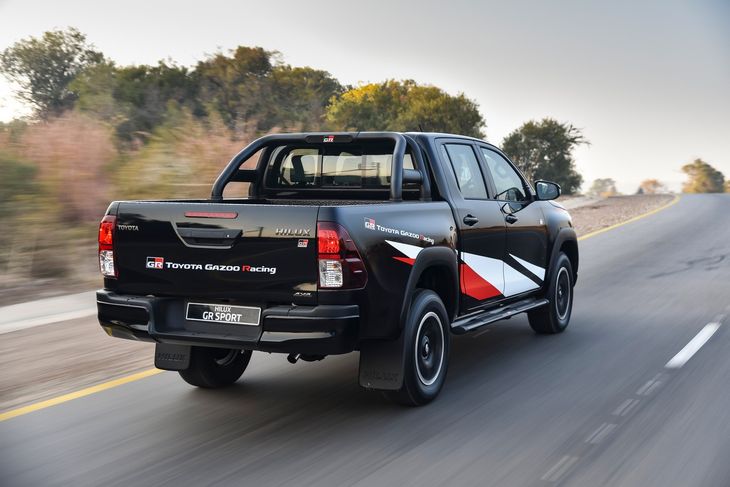 The suspension mods appear to have compromised the ride quality somewhat.
We travelled on myriad gravel roads that meandered past remote towns and villages. When travelling at speeds of up to 100 kph, the GR Sport's suspension appeared to easily soak up bigger bumps, which allowed for brisk progress across rough terrain. The higher damping rate meant that the ride quality did feel harsher on gravel too. It's not measurably more capable off-road than a standard Hilux, whereas the aforementioned Raptor can achieve much greater feats on the dirt than a stock Ranger. Is the minor improvement in handling enough to justify the firmer ride? You decide.
Here's what we think of the Raptor.
Exterior changes
The GR Sport certainly looks the part. Its attention-grabbing livery makes it clearly distinguishable from standard Hiluxes and the bakkie is offered in a choice of 3 colours (it was hard to pick a favourite, each one has its merits). Distinctive looks are important in the game of bakkie one-upmanship!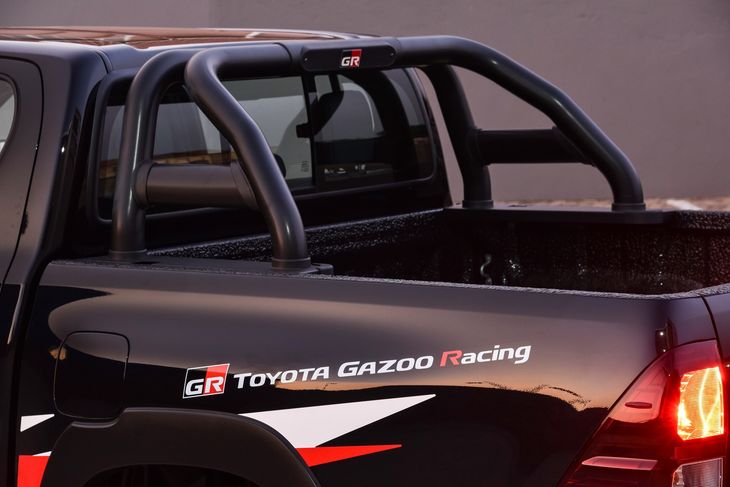 You won't struggle to spot one on the road: the sticker kit and badging sets the Hilux apart from even Legend 50 derivatives.
The Hilux GR Sport features a black bonnet and roof, with matching accents on the side mirrors. You also get GR-branded side steps, over-fenders and the tailgate is also "blacked out". All in all, the visual appeal of this specialised Hilux is quite striking compared with standard versions of the bakkie. As for the stickers, I'm not mad about their designs, but they do hint at motorsport pedigree, which is exactly what they're supposed to do.
Interior changes
The Hilux GR Sport's interior updates mirror those of the Legend 50, but because this a limited edition, additional derivative-specific details have been added. There are red accents on the dash', GR logos stitched into the headrests and carpets, the engine-start button is branded and every example comes with a plate bearing a unique serial number, so that owners have a constant reminder that they're driving something special.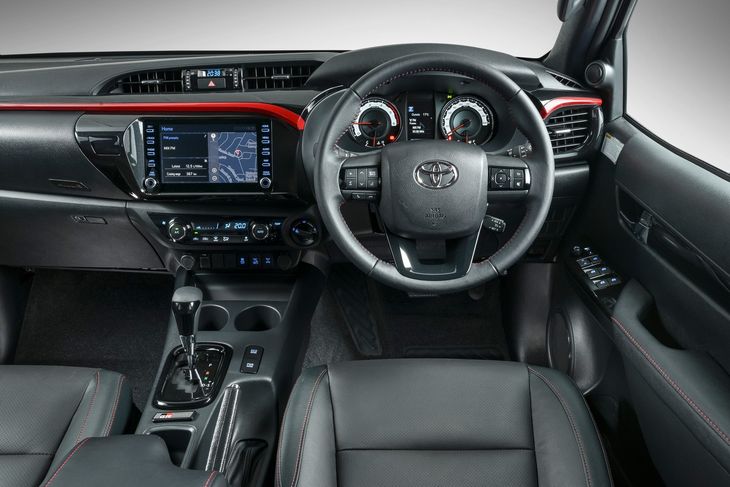 Volume and tuning knobs have returned to the Hilux infotainment system and red stitching and -plastic inserts hold pride of place.
The GR Sport's infotainment system is also in line with other 2019-spec Hiluxes, such as the new Legend 50 derivatives; it comprises an enlarged 8-inch touchscreen display (now flush-mounted and integrated into the dashboard) with additional rotary dials for volume and tune functions. The rotary dial is a welcome change as the general consensus was that the touchscreen volume control of pre-2019 Hiluxes was very fiddly to use.
The unit also features key-function shortcut buttons, onboard satellite navigation, DVD, USB, Bluetooth and auxiliary audio input interfaces. A multifunction steering wheel (which operates the onboard computer and infotainment system) and reverse-view camera add further convenience.
Isuzu joins the fray, read our drive of the Arctic Truck D-Max.
What else is different?
Not much. The Hilux GR Sport is equipped with the dependable 2.8-litre GD-6 turbodiesel engine (130 kW/450 Nm), mated exclusively with a 6-speed automatic transmission (with selectable Manual and Sport modes) and "switch-on-the-fly" 2H to 4H capability. Automatic versions of the 2.8-litre GD-6 produce 30 Nm more than their manual counterparts and the self-shifting 'box proved smooth and easy to use in a variety of conditions.
Verdict

All 535 local models have been sent to dealers, expect them to be snapped up immediately.
Unfortunately for the Hilux GR Sport, comparisons between it and the Ranger Raptor are inevitable. In terms of its engineering, the GR Sport isn't nearly as purposeful as the Ford; think of it as more of a homage to the reputation Toyota has gained after many miles at Dakar. For my taste, the ride is too firm for everyday use, which makes the standard Hilux Legend 50 a better buy. The 535 GR Sport owners will, however, benefit from the exclusivity of their bakkies and, probably, tremendous resale value. I wonder if Toyota might perhaps have a more hardcore Hilux in the pipeline?
Model Line-up and pricing
Only 600 GR Sport models will be built.
Hilux 2.8 GD-6 4x4 GR Sport 6AT – R 707 400
The Hilux GR Sport comes with a 3-year/100 000 km warranty. A 9-services/90 000 km service plan is also standard. Customers can also purchase extended service plans via their Toyota dealer.